Weight Loss Transformation of the Day: Lorna lost 106 pounds in 6 months.  Motivated by a diabetes diagnosis and wanting to live a long life for her child, Lorna is on a journey to lose over 200 pounds total.  Here is what she shared about her weight loss journey…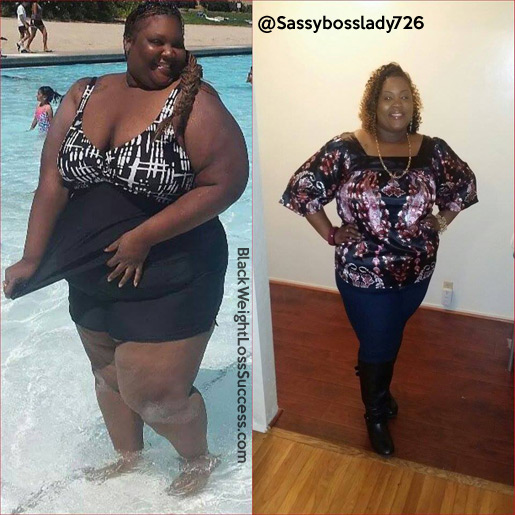 My weight loss journey started on August 2014. I was diagnosed with diabetes and it really scared me. I'm a 38 year old mom of a 8 year old and I wasn't going to allow food to separate me from my daughter early. My starting weight was 461 pounds.
I started walking about a mile a day and eventually made it to 4-5 miles a day with the help of my sister, friends and family. Also, I just started doing Zumba twice a week.  I stopped eating fast food! My daughter and I still eat out but only at places that have fresh food, like Subway, Waba Grill, El Polo Loco, etc. I still watch my portion sizes, and get kids meals.
To date, I have lost 106 pounds in 6 months with healthy eating and exercising 5 to 6 days a week. I'm not at my goal which is 235 pounds (don't want to be skinny just healthy). My diabetes and high blood pressure are now reversed and that is best part.
I also joined a phenomenal support group of women on Facebook that want to lose 100 lbs in 2015. Several of the women already have lost that much weight before joining the group in January 2015. I love reading your stories on Facebook as well and I have found so many women to relate to. It truly is a blessing to the black weight loss community.
Instagram: @Sassybosslady726