Transformation of the Day: Shanae lost 73 pounds. Her journey began when her mother and sisters bought her a personal training package for her birthday. From nutrition to exercise, she truly put in the work. She credits the people in her support system for being a huge part of her success. Check out her journey.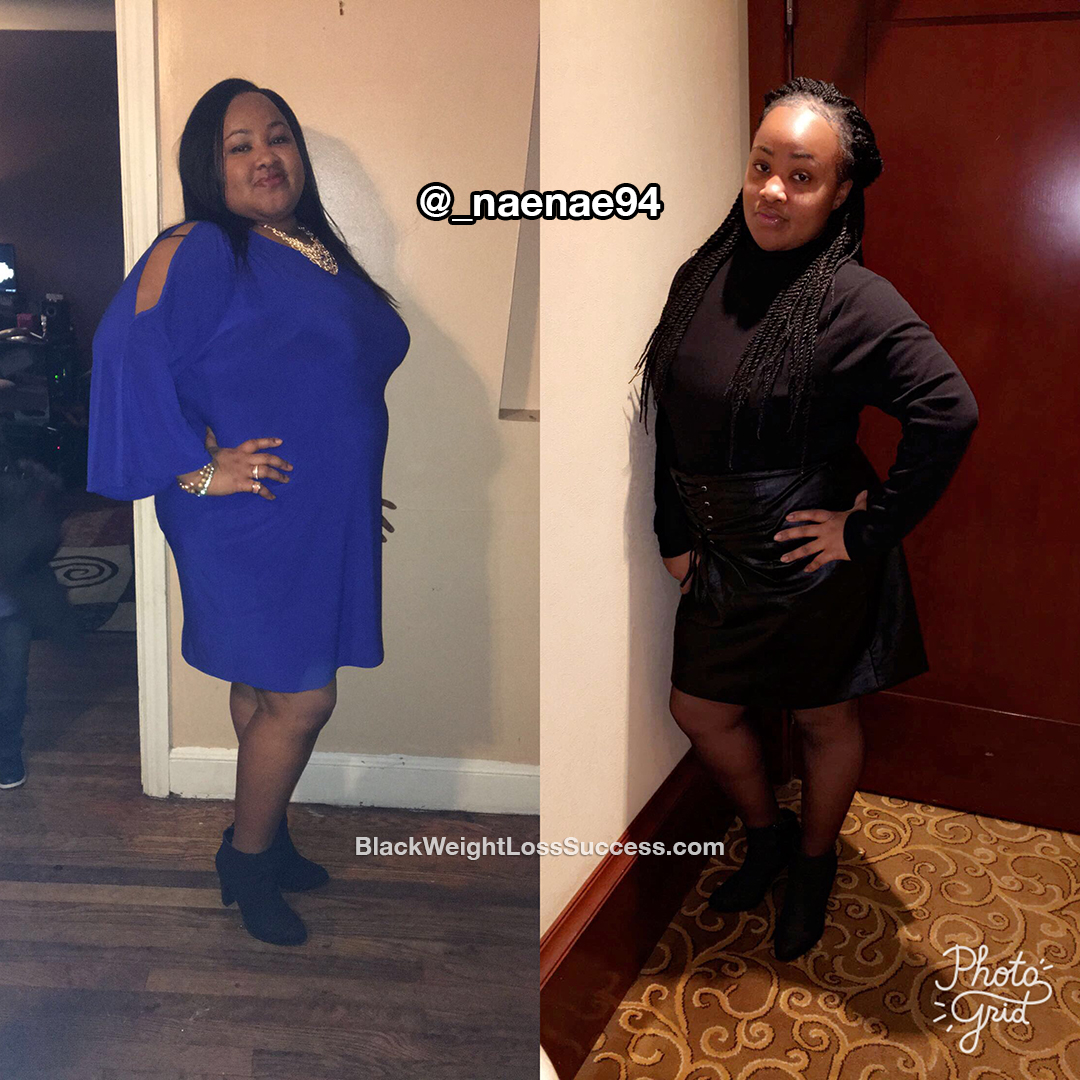 Starting Weight: 268 pounds
Current Weight: 195 pounds
Goal Weight: 170 pounds
Height: 5'3″
What was your motivation? What inspired you when you wanted to give up?
My motivation to lose weight came when I first stepped on the scale after three years and realized I had gained over 40 pounds. It clicked to me that I had let myself go for too long and lost control of me. I knew at that point that I needed to take back control and do something about it rather than just talk about it. That was my wake up call to commit to a healthy lifestyle.
God blessed me with such an amazing support system. Anytime I felt discouraged about the journey, my family, friends, trainer and team members were right by my side. They never gave up on me and didn't allow me to give up on myself. Their constant support always gives me the push I need to pick myself up and keep going.  
How did you change your eating habits?
My eating habits changed immediately at the beginning of my journey. I began logging my meals. I started to realize how unhealthy the foods were that I was putting in my body. My biggest problems were sugary coffee and unhealthy snacks.
I stopped drinking the coffee and let go of the snacks. I increased my intake of protein and vegetables, and decreased the amount of bad carbs (white breads, pastas, cookies). I also began eating good sources of carbs (fruits, whole grains, nuts, and oats). My water intake increased A LOT.  Water is extremely important for weight loss. I try to drink at least a gallon every day. Sometimes I'll add lemon and cucumber to it. If I have a taste for something besides water, I will drink green tea.
What did your workout routine look like? How often did you work out?
In the beginning, I started working out 4 days a week for one hour.  Now, I work out 6 days a week, typically for two hours. My workout routine consists of circuit/weight training and cardio. I usually take high intensity and strength classes at the gym. I work out with my trainer for one hour a week as well. I would suggest going at your own pace in the beginning and working your way up. Challenge yourself along the way. (Examples: doing intense cardio or lifting heavier weights)
How long did your transformation take?
My weight loss journey began in March 2017 when my amazing mom and sisters bought me a personal training package for my birthday. Honestly, it was one of the best gifts I've ever received.  My transformation took about 8 months. I'm working with my trainer now on toning my body and creating a nice form while still pushing to lose about 20 more pounds. My goal is to inspire others who are on this journey or who need an extra push to begin their journey so that they will have a success story too.
What is the biggest lesson you've learned?
The biggest lesson I've learned with this journey is that I had to fight hard for me and want it for myself. I knew how bad everyone around me wanted it. However, I wanted it just as bad so that just helped me to fight that much harder.
What advice do you have for others who want to lose weight?
My advice for others is to develop patience. You will not see results overnight. There will be weeks when the scale won't move, but don't give up. If you remain consistent and dedicated, it will all come together. Be prayerful at all times. I believe God gives us the necessary tools to remain calm during the journey. Learn how to fight for you and throw away the excuses so you can get it done.  Something is always better than nothing. Once you realize it's not just a temporary diet or weight loss plan, but an entire lifestyle change, you will truly be successful on your journey.
Instagram: @_naenae94