Transformation of the Day: Taniyah lost 85 pounds by being consistent with healthy eating habits and exercise. In 2020, her first child was born premature, and seven days later, her child's father was shot ten times. This sent her into a depression, but her strong support system helped her get through it. After that, she decided it was time to focus on self-love, fitness, and on holding herself accountable for the life she wanted to create.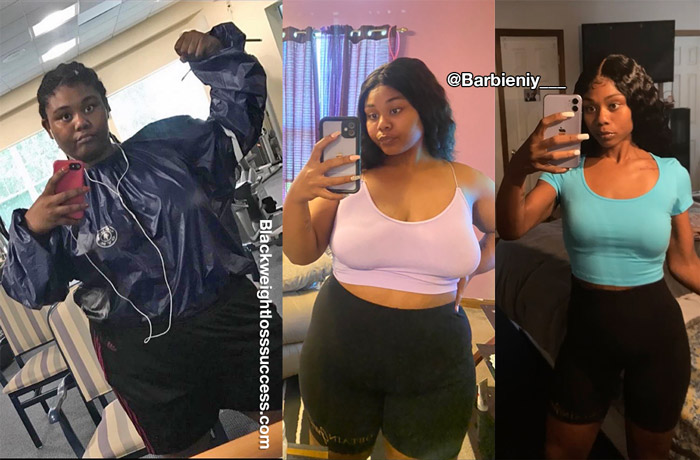 My name is Taniyah, and I'm 23 years old. I was heavy-set all my life. I gave birth to my first and only child, a baby girl, last year. This was two weeks before the world got locked down on March 1st. She was premature (six weeks early), weighed 4.5 pounds, and had to stay in the NICU for 12 days. 
I was already overwhelmed with my child not coming home as expected when my child's father was shot ten times seven days after she was born. After being told he would not make it through the night, I went into a depressive state. He survived. If it weren't for my strong support system, I wouldn't have gotten through that time. 
When did you start your weight loss journey? I started my weight loss journey in October 2020. My starting weight was 222 pounds. (I weighed 215 pounds in January 2021.) I knew I could look better and wanted to feel more confident in myself. Before I got pregnant, I'd gone from 275 pounds to 168 pounds, so this was my 2nd go around at losing weight.
I was determined to get myself to a point where I fell in love with myself. So I changed my eating habits, and because I was a stay-at-home mom, I started doing workouts from youtube. I would just type in "fat-burning workouts," etc. When I first started working out, it hurt, and I felt like I was dying. However, I knew there's no pleasure without pain, so I stayed consistent and pushed through it. 
Even though I was losing weight, I still didn't feel as confident as I wanted to feel. I looked in the mirror knew I didn't love myself at that size or the way I wanted to. Everyone around me was telling me, "You look fine. Your not that big." etc., but it's about HOW I FELT about ME. 
When I finally left my three-year toxic relationship with my child's father, grieved him, went through the motions of heartbreak, and finally focused on myself completely, I started to love myself and feel good in my skin. Now that I'm here, I'm never turning back. SELF LOVE IS THE BEST LOVE, and I love it! 
How did you change your eating habits?
To change my eating habits, I truthfully held myself accountable. I started eating proper portion sizes and transitioned to healthy eating. I also stopped eating past 9-10 pm unless I was up for 2 hours or more or about to work out (because I knew it would do nothing but sit in my body and be stored as fat). 
I DID NOT count macros, calories, etc., but everyone is different. However, I did pay close attention to the Nutrition Facts on labels and food.
Tell us about your workout routine.
I work out 5-7 days a week for 30 minutes to an hour. Knowing that putting in that small amount of time will eventually pay off to become something I never imagined is definitely worth it. I ONLY work out in my living room or my bedroom with a YouTube trainer of my choice, some water, and a towel. Sydney Cummings and Chloe Ting are great trainers on YouTube.
I also have a business I'm starting called Taniyah On Fire Fitness. I want to make sure the girls feel comfortable and know they can get to where they want to be with consistency, prayer, and God. You can lose weight at any size no matter what, as long as you are ready to hold yourself accountable and stay consistent. 
What is your current weight?
My current weight is 137 pounds. I've looked like this since May. I've just been maintaining and sticking to my lifestyle, and I LOVE IT! 
What is your height?
I'm 5'5″.
Is weight loss surgery part of your journey?
I haven't had any type of surgery. However, I want to remove the loose skin from around my belly area, so I will be getting that done. You can lose weight after giving birth via c-section, but the skin will be stretched. Mine is, but of course, everyone is different. I'm nowhere near ashamed of my loose skin. I love myself, and I'm not letting it define me!
What advice would you like to share with women who want to lose weight?
Start by loving yourself at whatever weight you are currently. Use the vision of where you want to be as motivation to stay consistent because you can do it. It's hard, yes. It burns, yes. It always will burn, but it gets better. A little rain never hurt anybody, but it ALWAYS gets better. It's never for no reason. The only time it's for no reason is if you put in the work but continue to repeat old habits that you know aren't doing anything for the new you.
Updated Instagram: @Barbieniy___ @themoodybarbiee