Transformation of the Day: Lorinda lost 60 pounds. She decided to put herself first, something she wasn't doing as a mother, wife, grandmother, teacher, and coach. She joined a local bootcamp and followed the guidance of a gynecologist who developed a eating plan for women in menopause and perimenopause.
What was your motivation? What inspired you to keep going, even when you wanted to give up? My motivation for beginning my weight loss journey was several things. The first was my physical health and my functional health. I didn't want to have to take any more medications. I'm currently taking thyroid medication, cholesterol meds, and blood thinners. Also, I was a former track athlete, but I couldn't run any longer, and my knees hurt. 
I wanted to be around for my grandchildren. I wanted to be able to play on the floor with them, play catch, and ride bikes without becoming exhausted in less than 60 seconds. 
There was one other person who put a thought in my head, and that was my sister. She found a picture of me on Facebook (you know, one of those eight years ago pictures). It was taken before I had a DVT, T.I.A (warning stroke) and was diagnosed with hypothyroidism. She said I should make it my goal to look like that photo. For some reason, those words just stuck in my mind. I kept hearing her say that, so I said, "Why not try?"
I believe what kept me going was my mindset. It was embedded in my mind to reach my goal and not let anything stand in my way. I did this for me first, knowing everyone else would benefit from me being healthy. I also believe that prayer helped me. I asked God to help me because I didn't want to be this way any longer. 
My dad's side of the family tended to gain so much weight that they had to walk with canes or had diabetes and took insulin. I just knew I didn't want to end up that way.
How did you change your eating habits? The first thing I gave up was Coca-Cola. They are my greatest downfall, and they are full of sugar. As a PE/Health teacher, I know they aren't good for me. I had already given up bread and baked goods after I was diagnosed with hypothyroidism. I read that most people with thyroid problems have gluten sensitivity, so I had stopped eating it a few years ago. I believe this choice prevented me from reaching 300 pounds. 
I also began intermittent fasting. I started it when our church went on a fast. I couldn't fast with just water because it would cause hypoglycemic attacks, so I tried drinking a smoothie for lunch and coffee in the mornings. After I stopped the church fast, I'd gone from 274 lbs. to 268 lbs. I continued this routine after the fast was over. I used a 16:8 fasting schedule (16 hours of fasting and an 8-hour window to eat). 
I would eat a salad or vegetables for lunch with 7 ounces of meat. I always have coffee in the morning for breakfast. I would choose nuts, fruit, yogurt with granola, or popcorn if I needed a snack. I also worked to stay in a calorie deficit. I used the Fitbit app to track my calories, macros, and how my calories I burned daily. This app is excellent. It kept me accountable and motivated me to keep moving. 
I learned about a gynecologist named Marie Clare Haver, who developed a diet for women in menopause and perimenopause called the Galveston Diet. I read her suggestions for weight loss for menopausal women and gave it a try. She said that most of our weight in menopause came from inflammation, and inflammatory foods were the cause for our puffiness and spreading while in menopause. She has an article about inflammatory foods, including processed meats, trans fats, fried foods, and things with artificial colors and flavors. She shares why we should avoid processed food and simple carbohydrates, like white flour, white rice, refined sugars, and anything with high fructose.
Dr. Haver suggests replacing these foods with anti-inflammatory foods, like black coffee, tea, and foods containing omega 3 fatty acids (cold-water fish, salmon and tuna, tofu, flax seeds, and chia seeds). Other anti-inflammatory foods include grapes, celery, blueberries, garlic, olive oil, tea, and some spices (turmeric, rosemary, and ginger). I believe this information helped me to lose the inflammation in my body. I try to practice eating this way as much as I can.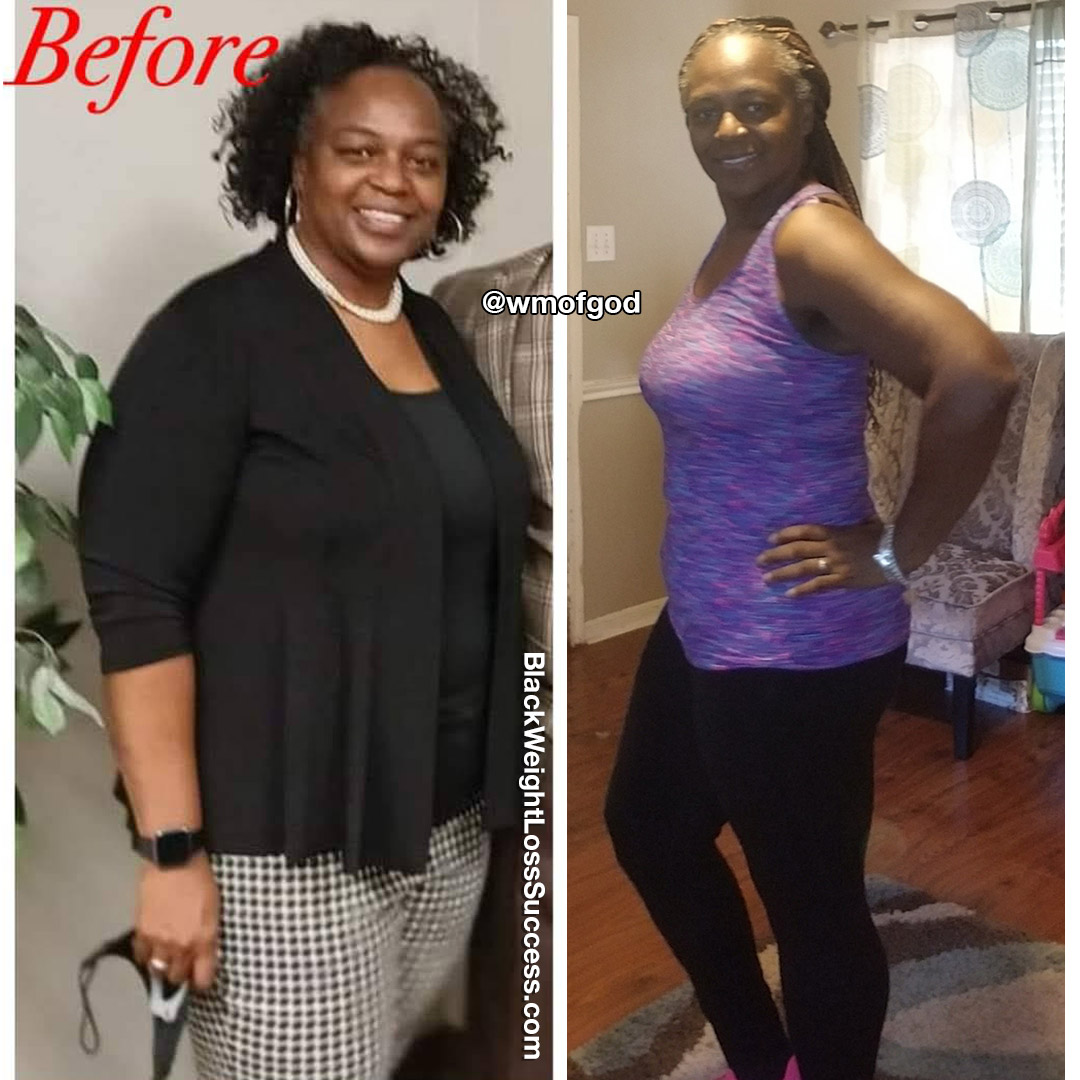 What did your workout routine consist of? How often did you work out?
I began by walking 1 mile a day. It was hard to get moving and to complete my workouts. However, I slowly moved up to two then three miles at least 4 to 5 times per week. I was afraid to work out with a trainer because I would get horrible leg cramps if I tried to work out. I knew most of it was because I was dehydrated. If I danced or did any exercises that focused on my legs, I would wake up with cramps in my sartorius muscle. It felt like my legs were twisted, and the pain would only go away when my husband put hot towels on my legs. 
A personal trainer at the school I work for hosted a weight loss challenge, and I decided to join in. The fee included virtual boot camps, so I started training with She Fit Fitness, which has an online training program that includes handheld weights, bodyweight workouts, hula hoops, and step classes. She also has a move club that gets together and walks 3 miles on Saturdays and sometimes after school. The boot camp takes place on Mondays and Wednesdays for 30 minutes, and there are step bench classes on Tuesdays and Thursdays. Getting together with this group made me accountable, and I was excited to meet with this group of ladies every time we had class. 
The challenge also included a meal plan that you could follow. At the end of this 21-day challenge, I lost a total of 30 pounds and I won! Latisha Rhodes is the owner of She Fit Fitness, and she has been a Godsend! Her workouts include burpees, push-ups, ab work, butt kicks, high knees. Sometimes she incorporates chairs, water bottles, shoe boxes, and broomsticks as well. I documented most of her workouts on my TikTok page.
The accountability of showing up four times a week kept me motivated to keep going and push all distractions out of my way. I was choosing myself first, something I wasn't doing as a mother, wife, grandmother, teacher, and coach. My mind is made up to stay the course and continue it for the rest of my life.
What was your starting weight? What is your current weight?
My starting weight was 274 pounds. My current weight is 214 pounds. 
What is your height?
I'm 5'9″.
When did you start your journey? How long did your transformation take?
I began my journey in January 2020. It took me ten months to get to my current weight. 
What is the biggest lesson you've learned so far?
The biggest lesson I've learned is that this is a lifelong journey and that if your mind isn't set, you won't be able to meet your goals. I also learned that so many people are in my corner. They have encouraged me and pushed me towards my goals. My husband changed his diet to help me and has been my biggest cheerleader. In essence, I needed a community of people who would support me and help me.
What advice would you like to share with women who want to lose weight?
My advice to other women is to find a community of people to work out with, talk to, and get advice from. Find a community of people who will support you when your mind is made up to pursue your lifelong fitness journey. 
Set your goals in small increments. Post your goals where you can see them, and they will remind you of what you're trying to accomplish. Each time you meet a goal, be quick to put up your next one. If you mess up, don't quit. Just get back on the right road the next day. Also, incorporate cheat days into your eating schedule, and don't be so strict that you sabotage the process. Liberty is a must. 
Take your time as you begin to work out. Slow and steady wins the race. I also recommend taking pictures of your progress. Don't focus on the scale because photos give you so much more detail than a scale ever will.
Instagram: @wmofgod