View this post on Instagram
Transformation of the Day: Tiarra lost 80 pounds. She is a proud mom of 3 and an Army Vet who has suffered from PTSD and Fibromyalgia. After her mother passed away due to heart disease, she made a commitment to love and take care of herself so that she could love and take care of her family. Now, she is on a mission is inspire women to take time for themselves and make their health a priority. Check out her story.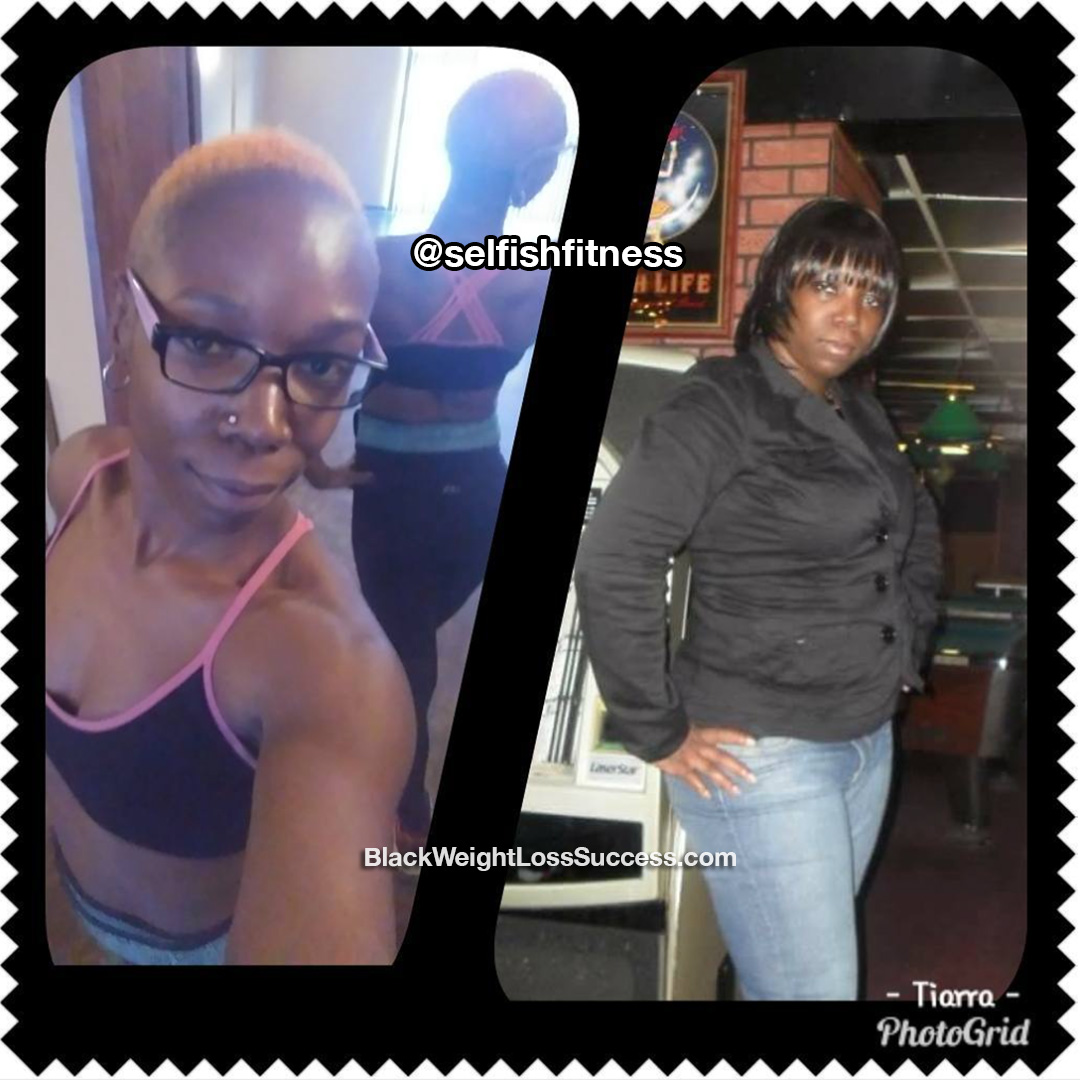 My name is Tiarra Jennings. I am mother of 3 and an Army Veteran. I am currently a Group Fitness Instructor certified through the American Council on Exercise, and I've been certified for one year. I promote Self-Ish Fitness. My goal is to inspire women to take time out of their day to work on themselves. I promote self-care and self-love. I want women to gain self-esteem and self-respect. It's okay to take time out to workout, to read a book, to drink some tea and relax however you see fit! Ladies, its okay to be Self-Ish!
It is so important to me to share this message because it's a principle that is new to me. I was the ultimate people pleaser and someone who never said no. My needs seem to come last. I found myself in a repetitive self-hate cycle that included alcoholism. I behaved in a way that can only be described as self-hate.
I suffer from PTSD and Fibromyalgia. In the military, I weighed 180 pounds at 5'6, and that is considered overweight. My career was stalled and I couldn't be promoted. After I was honorably discharged, I reached a max weight of 220 pounds.I knew I had to make a change, but I lacked the motivation to do anything about it.
Then, I lost my mother to heart disease. My family needed me now more than ever. I realized I couldn't be there for them if I'm not at my best. To love and care for them, I had to love and care for me.
My workouts began in my living room. Early morning workouts are best for me. Before the kids get up, I can spend a little time on me. I would train hard once a day, paired with sensible eating. I like to use programs developed by Beachbody. My favorite is Turbo Fire! I almost feel like I know Chalene Johnson personally! I love to do interval training. I've used Insanity, Rev Abs and Turbo Jam. I also love the exercise DVDs made by The FIRM.
When I felt confident enough, I found some group fitness classes to go to. That evolved into a desire to teach. I started in my home, where I taught for Body Sculpting and Bad Girl Fitness. I took that even further and I am now certified to instruct Core de Force LIVE, Turbo Kick LIVE and PiYo LIVE.
Dieting is hard! Especially as a working mother of three. I try to keep it simple. I look to meal plans for ideas. In a perfect world I would meal prep all the time, but it's not always possible. I made adjustments. For example, eating less fried food, less sugar, more vegetables and drinking more water. Instead of eating a candy bar, I substituted fruit or nuts. The changes did not happen overnight. I slowly phased things out. Even when I'm not eating my best meal, adding vegetables is a must. I keep negative calorie snacks for between meals, and I still have coffee EVERYDAY!
This journey started and restarted until I made a commitment to myself. I wanted to teach group fitness and started school for it in 2012. Then, I found out I was pregnant. Needless to say, that changed things! After the baby, it took a long time to make time for me. This leg of my journey began 2 years ago, and I continue to grow! I teach 6 days a week at S.E. Wellness and 2 days a week at the YMCA.
I now weigh 140 pounds! I have reduced my Fibromyalgia symptoms and taken control of my life! Now, I want to inspire others. Many women are the backbone of their families. What happens if you go down? Why do you ignore your own health issues? You take your kids to the doctor and bug you hubby, but what about your own health? What about you?
To anyone looking to begin their own health journey my advice is this: Keep the promises you make to yourself, love yourself, and know that you are worthy of your best life! I workout to live! I want you to live. The body is the bonus!
Updated Instagram: @selfish_fitness
www.self-ishfitness.org
www.facebook.com/selfishfitness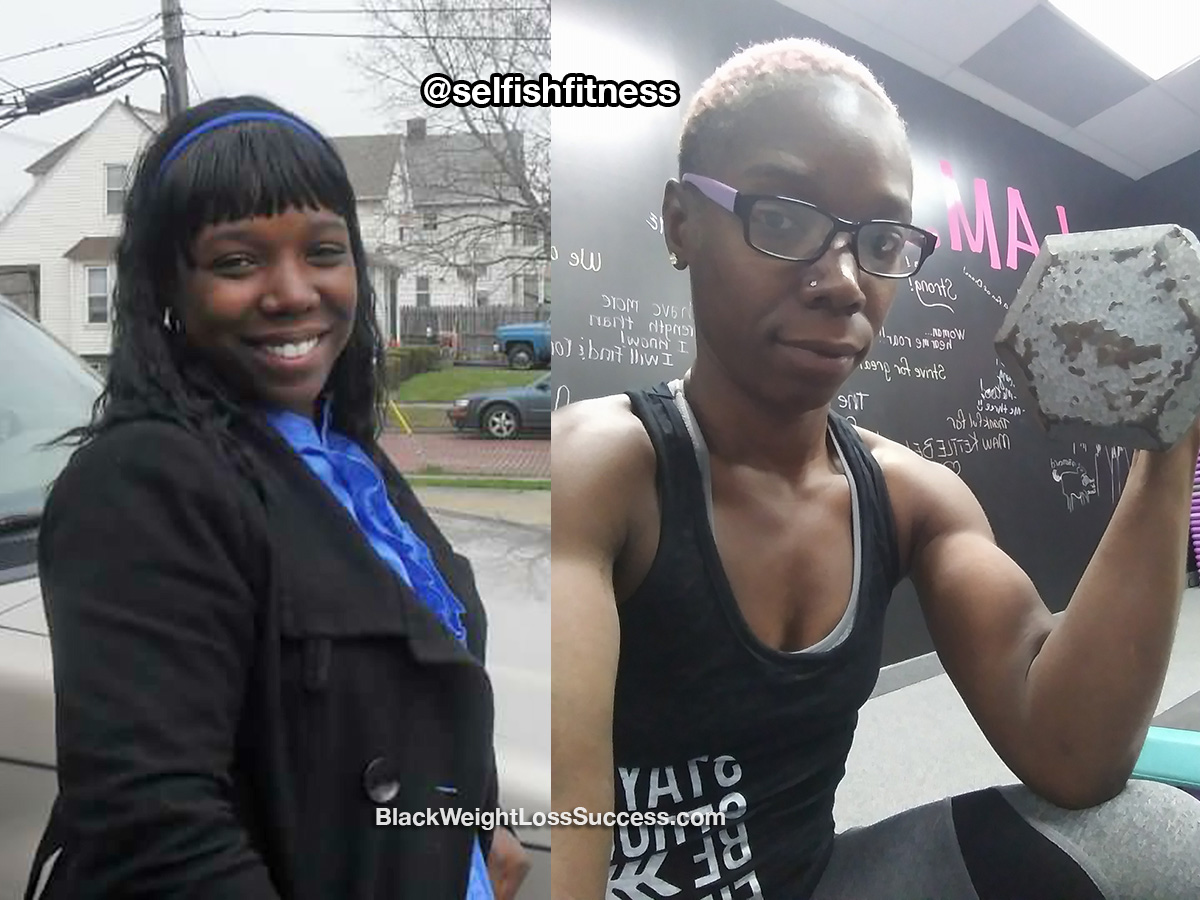 Disclaimer: Reference or link to any specific product, diet plan, exercise plan or service mentioned in the weight loss stories we share is for the information of our readers, and does not constitute an endorsement or recommendation by Black Women Losing Weight.