Update: Shout out to Brittnie! She's lost 141 pounds.
View this post on Instagram
Transformation of the Day: Brittnie lost 119 pounds. Something had to give, because she was sick and tired of being sick and tired. With help from her health coach and personal trainer, she found the strength to reach her goals and the willpower to keep the promises she made to herself. Check out her journey.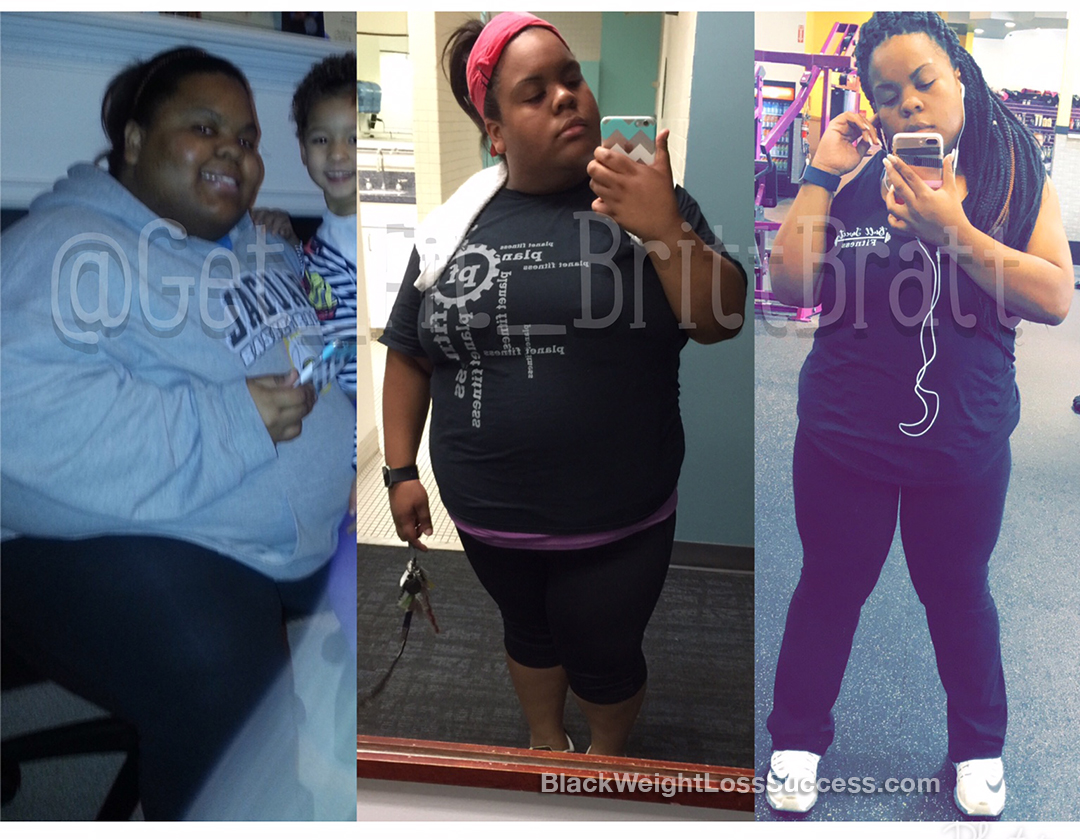 What was your motivation?
I'd say my motivation was finally being sick & tired of being sick & tired. I had finally hitting rock bottom honestly. Between an Achilles tendon injury, a bad break up and struggling with my own self worth, I couldn't sink any lower.
One day, a friend of mine took a picture of me when we were at work. I was so disheartened at what I saw in that picture that I knew I had to change something. I was a 29 year old woman on multiple medications for issues ranging from blood pressure to headaches. My doctor suggested that maybe weight loss surgery would be my best course of action, but I wanted to accomplish something that I never thought was possible. So, I promised myself that I was gonna try to do it one more time on my own. I just knew something had to be done.
During this journey, my health coach and the group she created inspired me the most. She taught me the value of looking at your self for self motivation and holding yourself accountable for the things you do. I was inspired to push past my limits, change my mindset and change the way I viewed my own health and fitness.
How did you change your eating habits?
As far as my eating, I went the Keto/low carb route. I started counting up my daily carb intake. I also gave up all breads, pasta, rice, junk food, soft drinks, most fruits, etc… and incorporated more green veggies into my diet.
What did your workout routine look like?
I actually walked for 1 hour on the treadmill daily. In the beginning, it was just a moderate incline. Once I started getting more used to it, I would crank the incline as high as it would go and just walk for an hour. I did this 6-7 days a week as my foundation. No matter what other exercises or fitness classes I took, I ALWAYS did my hour of cardio.
After I lost about 45 pounds, I incorporated working with a trainer consistently. To start, I met with him 2 times a week for weight training. Then, we upped that to 2-3 times a week for weight training. I also started doing a little boxing with him. Recently, I've transitioned over to using the stairmaster for an hour instead of the treadmill.
What was your starting weight? What is your current weight?
My heaviest weight was about 412 pounds, but when I started my journey I weighed 321.2 pounds. My current weight is 201.8 pounds. I am 4'11.5″.
How long did your transformation take?
I started my weight loss journey off and on for years and I managed to get a little bit off. However, I didn't really get serious about it until June 2016. It took me about 13.5 months to drop 119 pounds.
What is the biggest lesson you've learned?
The biggest lesson I learned on this journey is that it is "you vs you". Everything we do is a choice. A cheat, a workout, a diet, motivation, an excuse… all of these things are choices. To succeed, you have to change the way you see yourself and the goals you are trying to accomplish. I had to learn to trust and fall in love with the process. I had to learn, as my coach would say, to be my own #BodyGoal.
What advice do you have for others who want to lose weight?
My advice to others is just start. Don't be so concerned with the results that you sike yourself out. Weight loss is a marathon, not a sprint. You have to remember how long it took you to gain the weight you are trying to lose. You didn't gain it overnight, so you can assume that losing the weight will be overnight either. Trust the process and the results will come.
Instagram: @Get_Fit_BrittBratt