Transformation of the Day: Djeenia lost 46 pounds. Last year, she was in a bad headspace, dealing with insecurity and a lack of self-love. She got results by changing her mindset, working out 5-6 days a week, and making healthier food choices.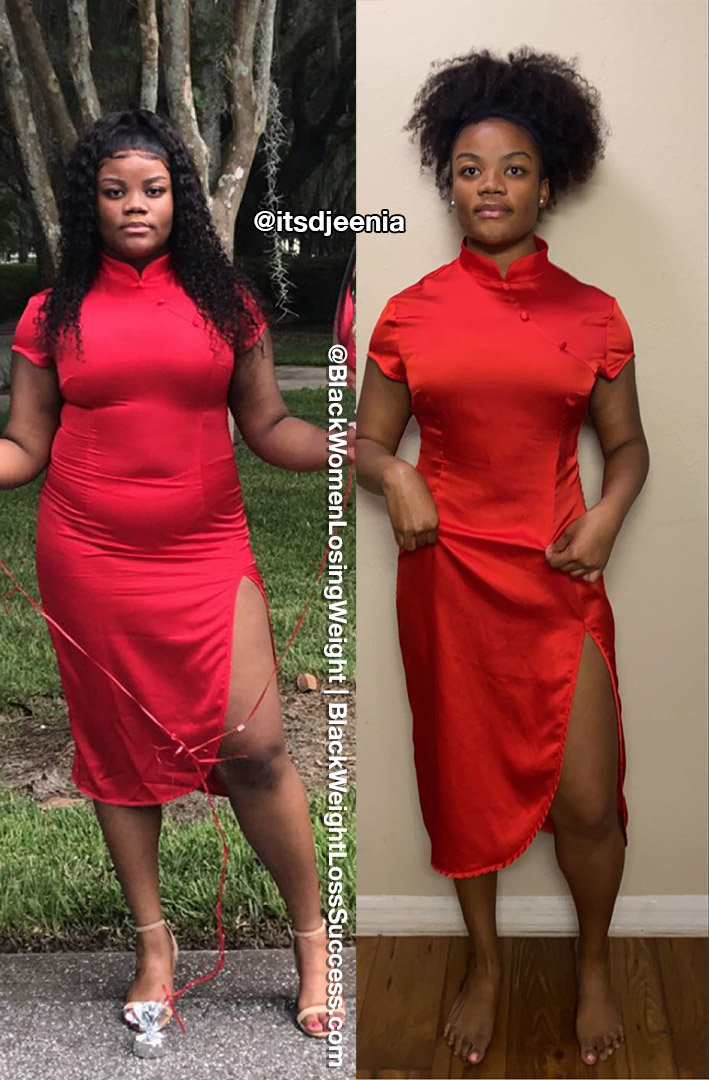 What was your motivation? What inspired you to keep going, even when you wanted to give up? 
During the pandemic, I was really in a bad headspace. I used to pretend to be okay when in all actuality, I wasn't. I hated the way I looked and felt. I used to wake up wishing I was someone else. I used to feel like I didn't belong in specific spaces, and I was insecure. So I guess you can say my weight loss journey took me out of that horrible state of mind. 
If I'm honest, my motivation was that I wanted to look different when I first started. I felt like I didn't look my age since I weighed so much. However, My health was a concern too. I was afraid of getting too big and getting ill. 
Other people's weight loss stories kept me inspired when I wanted to give up. Another thing that kept me going was music. I love listening to music, so it was my outlet.
How did you change your eating habits?
I didn't use a specific program. I stopped drinking juice and snacking on unhealthy food, such as Oreos and chips and crackers. I cut out these things slowly until I barely ate them. 
I had small meals with two snacks a day. I ate veggies, eggs, veggie/tuna wraps, Greek yogurt, protein bars, lots of water, fruits, protein shake, popcorn, etc. I still had my favorite foods; I just had tiny portions of them. I still had a little bit of juice here in there and had a few of my favorite snacks here and there and my favorite foods here and there, but I kept it at a minimum, and I made sure I was still eating in a calorie deficit.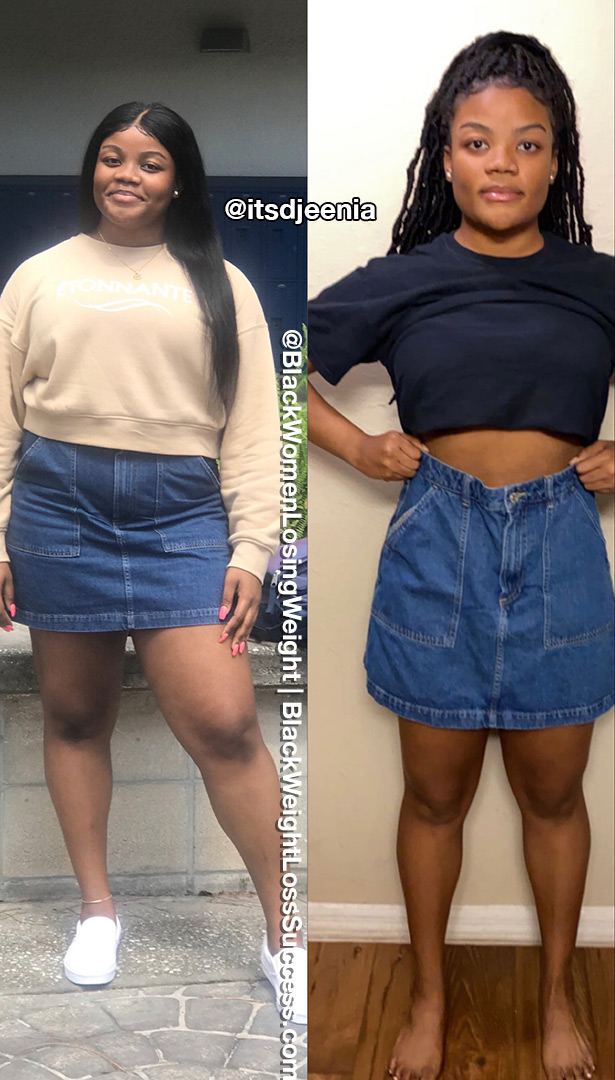 What did your workout routine consist of? How often did you work out?
When I first started, I would work out six times a week. Most of my workouts at the gym are full-body workouts mixed with weights and cardio. Later on in my journey, I started to go to the gym five days a week.
Now I work out five days a week. I will do the stairs for 45 minutes. I also do some at-home workouts and a lot of walking. Sometimes I work out six days a week if I am feeling up to it. 
What was your starting weight? What is your current weight?
My starting weight was 213 pounds, and my current weight is about 167. I'm still trying to lose more weight.
What is your height?
I'm around 5'8″.
When did you start your journey? How long did your transformation take?
I started my journey a couple of months after my 18th birthday, which was in June 2020, and I officially started around October. I would walk some days, do the stairs, and try to eat healthily. However, I didn't begin to take it seriously until January. It took me about nine months to a year because I was taking it slowly, and I was trying to build healthy habits along the way.
What is the biggest lesson you've learned so far?
The biggest lesson I've learned so far is discipline is everything. You must have discipline in life along with patience and consistency. Those three things will take you far. I've also learned that if you don't love yourself, you will still be unhappy no matter how much weight you lose. 
Also, if you work out and your diet is horrible, you will not see progress. The number on the scale doesn't matter as much as you think it does if you like the way you look and are healthy. That's all that matters. Lastly, losing weight has taught me to be a better version of myself.
What advice do you have for women who want to lose weight?
No matter how hard it gets, keep going because you will see progress. Learn new things as you go through the journey. 
Also, it's not a race. It doesn't matter how long it takes you. As long as you are building healthy habits along the way to maintain that weight, you should be fine. Lastly, stay positive. Do that little dance at the gym. Who cares who's looking? You only have one body, and you only live once.
Instagram: @itsdjeenia
TikTok: @itsnialuv