Transformation of the Day: Courtney lost 118 pounds by transforming her mindset and her daily habits. Before starting her journey, she dealt with several health issues, including high blood pressure, acid reflux, and anemia. With guidance from her trainer/coach, she completely changed her eating habits and adopted a fitness routine that has produced impressive results.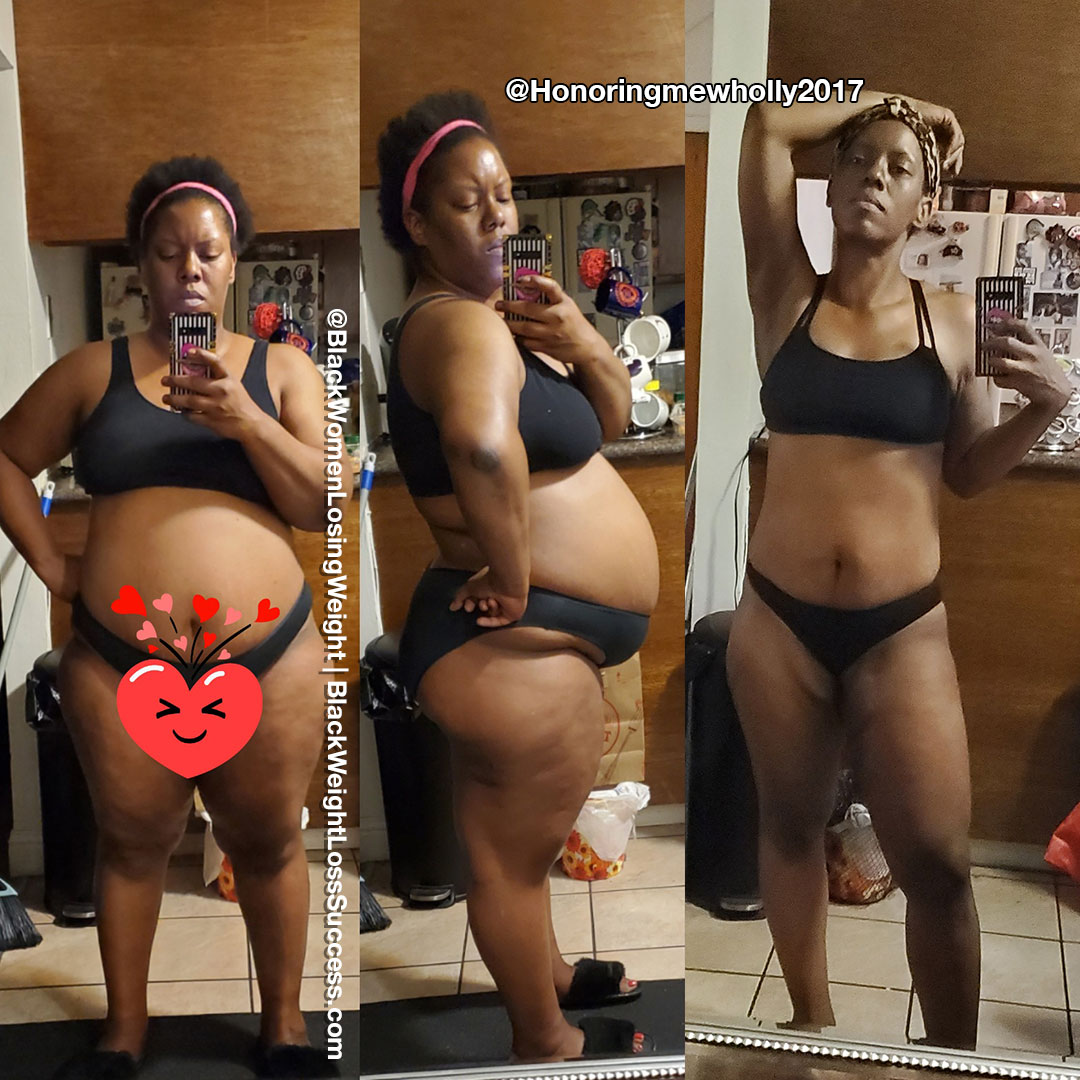 Start Date: June 11th, 2020 – Starting Weight: 308 pounds
1 Year Milestone: June 11th, 2021 – Weight: 197 pounds
9/26/21 – Current Weight: 189-191 pounds
In June 2020, I was distraught with gaining more weight during the first few months of COVID, so I decided to hire a trainer. I found an African-American holistic nutritionist/trainer online (@msgradeamuscle)who tailored a weekly clean meal plan for me: 3 regular meals, two snacks, detox juice, and an evening protein shake daily. I ate the same thing each day. 
I cut out salt, sugar, butter, cheese, and processed/ fried foods. I also had a cheat meal once per week. However, I quickly learned the hard way that my one weekly cheat meal had to be healthy-ish and not anything from my old favorite restaurants as I would promptly get headaches and indigestion issues from the salt, oil, and sugar.
I developed the habit of working out almost every day, especially while sheltering in place. My trainer offered around 2-4 classes a day during the week on Zoom, which was very convenient because I worked from home. I also incorporated 2-5 mile walks outside on most days. 
What was your motivation? What inspired you to keep going, even when you wanted to give up?
The pandemic sparked a fire in me to level up my life in some way…In a way that I could be ready for anything. I created a vision for myself coming out of the pandemic. I was sick and tired of just existing, and I looked at my vision daily. 
My trainer gave me firm reminders of my vision when I felt like giving up or got distracted. She reminded me of the promises I made to myself and the sense of urgency to reach my goals. I did not want to be in the same or a worse situation next year. I wanted to do everything that was in my control to get my personal power and health back.  
I initially gained weight in my late 20s after an episode of depression and taking different antidepressants and mood stabilizers. After years of carrying the excess weight I gained, I had developed high blood pressure, acid reflux, fibroids, fluctuating iron deficiency anemia, and blood circulation issues in my feet. In addition, I always felt lethargic, drank 3 cups of brown-sugar filled coffees a day on average, and smoking black and mild cigars didn't help. 
It took a pandemic, laser focus, many snafus or cheat meals, addressing and managing my emotions, and many mindset shifts and lessons (some reoccurring) for me to finally shed 110 pounds of excess weight and pain in 1 year. 
I reflected and used tough self-love to address every area of my life. I was fortunate enough to still have my job in the summer after working part-time and a furlough period in March. I hated the feeling of my livelihood being at the whim of the company that I worked for and not having something to fall back on. Even more importantly, it seemed like every other area of my life was nowhere near where I wanted them to be. My body was whispering to me that I needed to make a change.
What did your eating habits look like before you started your transformation journey? 
Before I started, I ate healthy-ish with three standard meals and coffee but with brown sugar. I stayed away from dairy when I could because I am lactose intolerant. I ordered food once or twice a week. I ate vegetables but with butter, plenty of cheese and sea salt. I would have oatmeal or avocado toast for breakfast. A typical lunch or dinner would consist of pasta salad, pizza, or deli sandwiches for lunch. 
With my coach/trainer, I cut out soda entirely and mainly drank water (coffee and tea, occasionally). Before June 2020, I would drink soda, but not any juice.
What did your workout routine consist of? How often did you work out?
My trainer offered cardio and weight training classes online. I would take at least one class Monday-Saturday and fell in love with walking for an hour most days of the week. I noticed more results by taking the classes with the trainer. 
I usually work out six days a week with one day off. I also found a love of walking in after work for about an hour. In the last two months, I've cut the down on walking and incorporated more weight training circuits and stairs.
What is your height?  
I'm 5'7 & ½".
When did you start your journey? How long did your transformation take?
I officially began in mid-June 2020. It took a year to reach 197 pounds, with some fluctuations from March to June due to life, foot, and ankle injuries and new minor health issues that I discovered along the way. Since June 2021, when I wanted to share my story, I've focused on maintaining my weight and toning. As of today, I am around 189 pounds and focused on toning.
Is weight loss surgery part of your journey?
No
 

 

View this post on Instagram

 
What is the biggest lesson you've learned so far?
I think one of the biggest lessons from this is to keep my word to myself. I've learned that my wellness journey was about not ghosting myself anymore but putting myself first, setting healthy boundaries, and being "selfish" is okay. I am accountable to myself and for my life only. Another major lesson was that self-discipline is self-love and treating my body, mind, and spirit with respect and love meant cutting out emotional eating, enjoying being alone, and addressing negative thoughts and feelings in a healthy way.  
What advice do you have for women who want to lose weight?
When deciding to start your wellness journey: 
Determine and stay close to your why and your vision. Look at it daily. Your why must be bigger than your excuses.

Take stock of your body, personality, goals, vision, why, current health, and goal lifestyle. 

Figure out how to tailor to you and your situation. How does your body respond to dairy? What's your favorite workout? What are your current stressors or challenges to living a healthier lifestyle?

Setting goals and benchmarks are good (scale and non-scale). However, as I have learned, it's also important to approach your journey from a place of wanting to create a healthy lifestyle for the long haul and practicing self-love and not self-hate.

It's okay to ask for help and even from an expert! Do not judge yourself for it.
During your wellness journey:
Focusing on yourself, healthy boundaries, and personal time is not selfish. It is essential to loving and honoring yourself wholly. Make sure to protect your time and energy and cut out distractions.  

Sharing is caring: Ask family and friends to provide accountability and support. 

Find a tribe of health-minded people to learn from and spend time with. 

Remember your why and look at it daily. Having a vision board and set of goals gave me the resolve to stay consistent.  

Stick to a non-negotiable schedule for working out and plan for movement and changes in your week and social situations.

Self-Discipline Is a form of self-love.  

Look at your journey as an opportunity to further build and strengthen your relationship with your body. My journey allowed me to re-learn what my body wants and needs and how to listen to it. Looking good is great, but also using what you and movement as a way of showing your body love.

 Enjoy and celebrate the journey.
Instagram: @Honoringmewholly2017