Update Nov 2018: Natasha lost 16 more pounds for a total of 101 pounds gone. She credits therapy, healthy eating habits and exercise as the tools that have allowed her to maintain her success.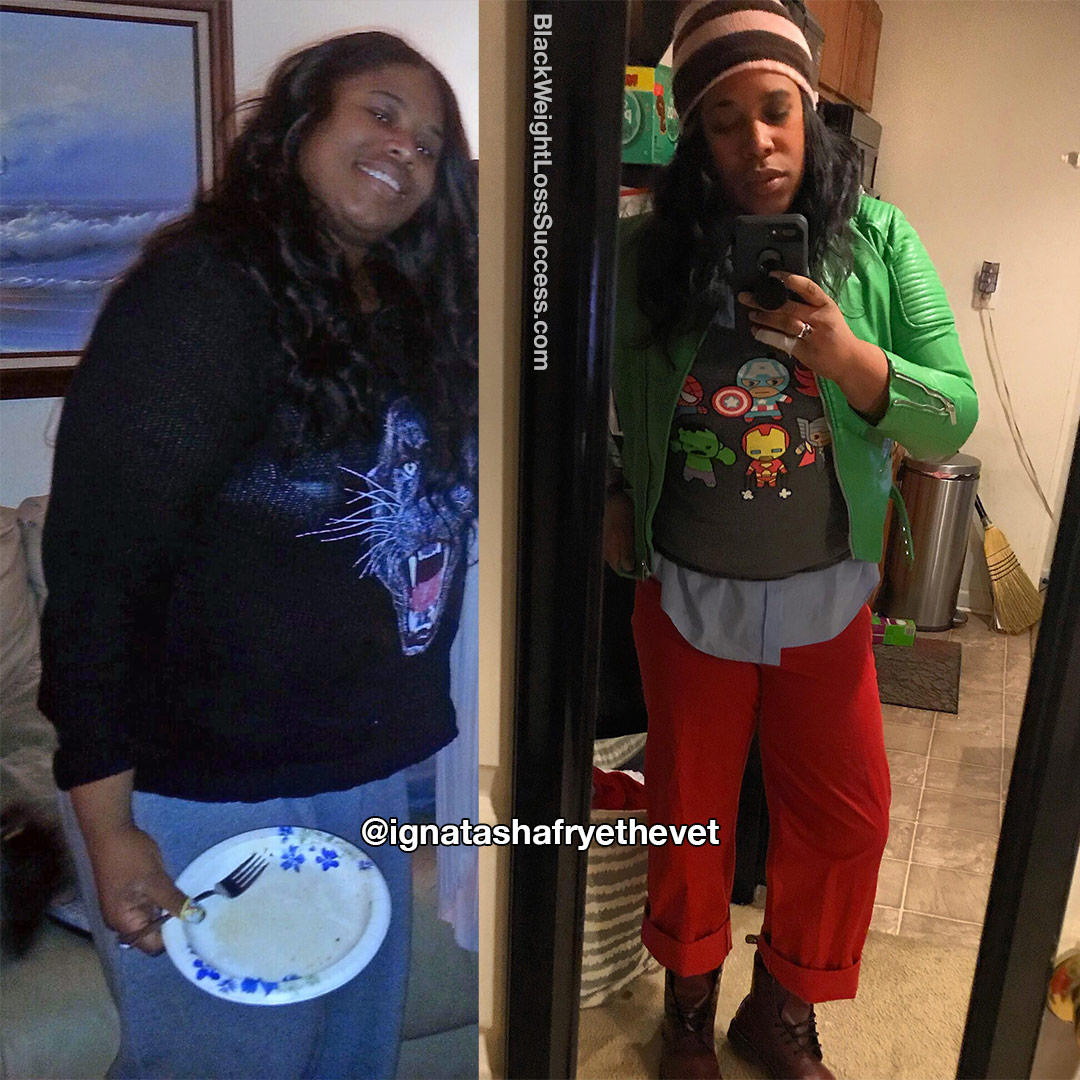 How have you maintained your weight loss/continued to lose weight?
I eat mostly steak and salad. I don't eat out at all. The key is that I don't deprive myself of anything. I love ice cream. I cook everything I eat, and I drink a lot of water. However, I like to have ginger ale from time to time, lol.
For me, maintaining also means going to therapy, walking, and hiking. I've learned why I got to heaviest, and I use pictures to show myself how far I have come.  My current weight ranges between 167 – 170 pounds now.
What lesson you've learned on this journey stands out the most?
The lessons I've learned on this journey are never-ending. Finally, I learned to like what I saw in the mirror. I don't run past the mirror like I use to. I keep all my clothes the same size and will not go over that size. Many ignore or brush off signs like changes in clothing while trying to maintain.
At this point, would you offer any new or different advice to other people who want to lose weight?
The advice I have to share (the same advice I was told): You didn't gain the weight or get this way overnight. It will take some time to obtain any goal, big or small. Don't give up. It is hard, trust me, I know.
Don't compare your journey to anyone else's. This is your story, and you get to write the ending however you want it. Know the reason why you got to your heaviest point. Therapy can help. Also, go to doctors who care and are cheering you on.
Surround yourself with a good support system, and do it for you, not for anyone else. Do what works for you and be patient.
Instagram: @ignatashafryethevet
---
Weight Loss Story of the Day: Natasha lost 85 pounds.  This military veteran had to lose the weight in order to qualify for surgery. She changed her eating habits, started exercising and got results in 9 months.  Here is what she shared with us…
I am 36 years old and a military veteran. I gained almost 70lbs. The weight gain was recent. I  packed those pounds on in the last 3 years due to depression. When I moved to the DC area, I noticed I didn't fit the mold. I was either too big to hang out with or date or I felt used. The wakeup call is when I had a doctors appointment for plastic surgery to get my breast reduction in April 2014. My doctor told me my BMI was over the limit and told me to come back when I's lost the weight. I was determined. Needless to say I dropped 85 lbs and got my reduction on January 12, 2015.
I stopped eating out as much and cut all sodas from my diet and drank more water. I added more protein to my diet, such as lean beef and fish. I chewed my food more as well instead of just a bite and swallow. I didn't deprive myself of having chips here and there, so I wouldn't crave junk food. I started to walk everywhere (due to car issues). I walked to the grocery store and started taking public transportation as well.
My starting weight was 271 lbs at 5'8″ tall and I currently weigh 186 lbs. I started my transformation in April 2014. My advice to others trying to lose weight is to never give up. I've tried every diet under the sun since 2006. However, I was determined in April 2014 when my doctor told me I had to get to a certain weight to get breast reduction surgery. Believe in yourself. People will pressure you, but when you're ready you can do anything.
---
Update May 2015: "Just an update: I am excited to say that I have lost 20 more pounds since my Feb 4th article."