Transformation of the Day: Tamesha lost 108 pounds. She was inspired by the health struggles of a friend and by wanting to be keep up with her active children. Once she changed her eating habits, she saw her body begin to change. She shared with us how she's worked to change her lifestyle over the past year.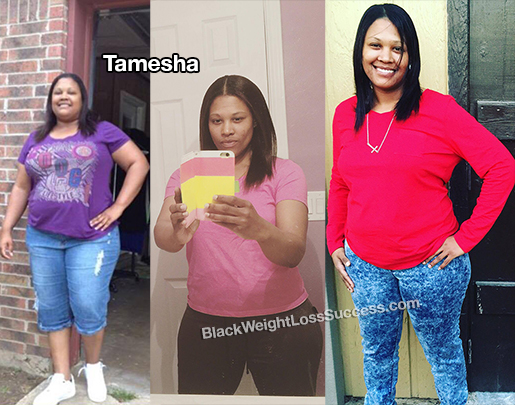 I lost 105 pounds in a year. I'd been struggling with depression and anxiety. My motivation came from my BFF who was having all type of medical issues, such as diabetes, heart disease, lung problems and asthma. She needed to loose 50 lbs in order to have heart surgery. My kids were also a huge inspiration. I have a six year old son to keep up with.
When I changed my eating habits, the weight fell off… literally. I use to drink lots of soda and eat fried food. I stopped drinking soda and lost 20 pounds. Then, I started eating nothing but grilled foods, salads and vegetables. I cut out all the fast foods and junk food. My snacks consisted of nothing but fruit. I eat the same time everyday and I no longer eat late at night.
The more the weight fell off, the better I felt. I joined a local gym. I walked 3 miles a day and did weight training to tone. My workouts were very moderate and light.
My heaviest weight was 283 pounds, and as of today I weight 175 pounds. I'm 5'7″ tall. The total transformation took about 13 months. No weight loss surgery at all.
My advice to others would be don't view it as a diet, view it as a lifestyle change. That's exactly what it was for me and I feel like a brand new person now. I've struggled with my weight since I was 25 and now I'm 35 years old. I know that you have to have your mind made up and take it 1 day at a time. Keep a journal of the foods you eat daily, as well as your weekly weight loss progress. It's possible people! I never thought I could do it, but I did.