Transformation of the Day: Tonette lost 25 pounds. At 53 years young, this mother of two is focused on faith, nutrition, and fitness. After being told she would need a 2nd medication for blood pressure and that she was prediabetic, she was reminded that faith without works is dead. With the help and guidance from her weight loss coach, she released the weight.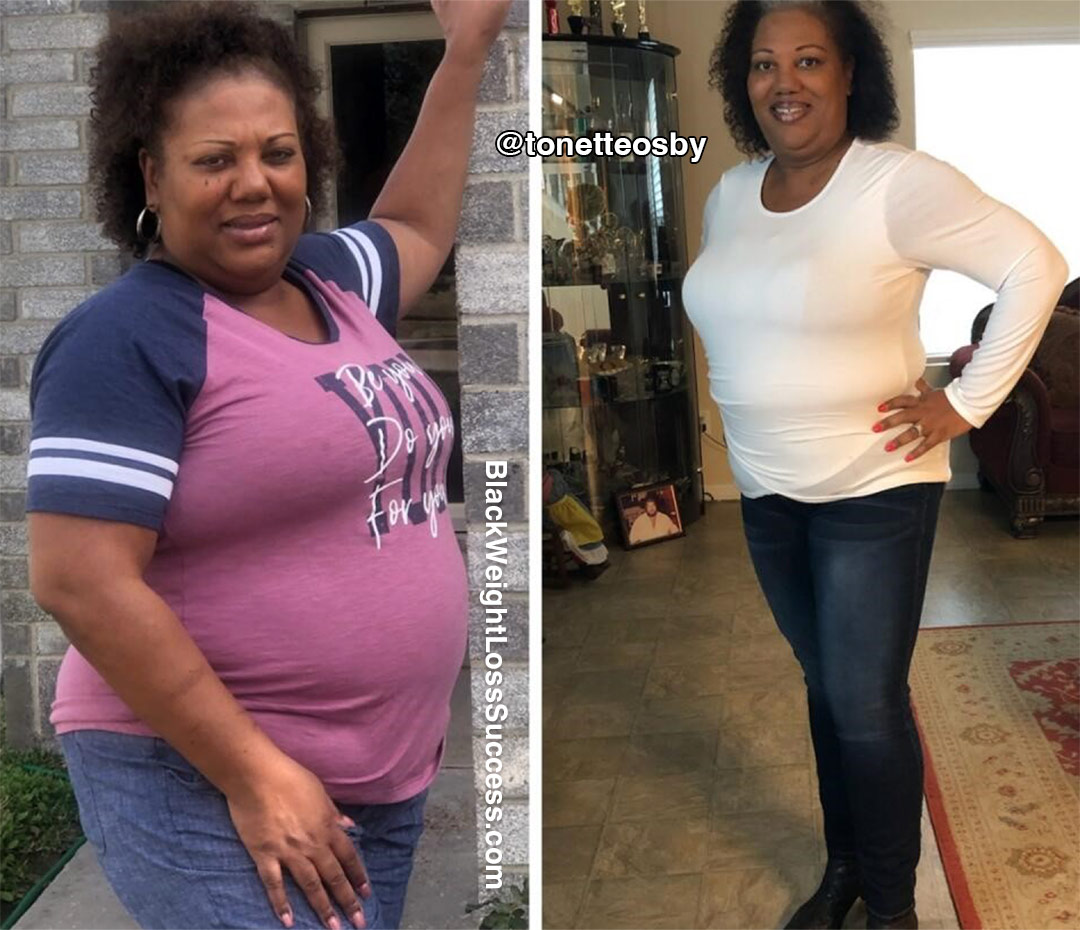 My name is Tonette O. I'm the mother of two daughters, and I'm 53 years old. I had my youngest daughter at 40 years old and gained 50 pounds after her birth. 
What was your motivation? I was overweight and went to the Doctor for a follow-up. My Doctor was getting ready to put me on another Blood Pressure medication. A few days later, I got my lab work and a call from them stating I was Prediabetic and my cholesterol was high. They told me to watch my diet and to exercise. I have been told that many times before, but what did that consist of? (or, in other words, WHAT DID THAT LOOK LIKE?) I have been exercising for many years, but I didn't have a good plan for my nutrition!
I got a PROPHETIC WORD a few years ago that I was going to LOSE WEIGHT, THE WEIGHT WAS GOING TO MELT OFF OF ME, AND I WAS GOING TO GAIN BACK 7 YEARS of my youth. So, after being miserable and just wanting to give up, in October 2021, I pulled out my prophetic tapes and listened to them again. 
FAITH WITHOUT WORKS IS DEAD! I started believing in the WORD that was spoken over me. I also began searching for a Nutritionist because I had the exercising part down. I was on Instagram and saw a post from Roland Martin featuring Terry Starks, The Diet Doctor. I followed Terry for a month before I reached out to him on November 22, 2021. I started working with him and using the Diet Doctor's 35 Day plan on November 28, 2021. My life is forever CHANGED!!
There have been days I have wanted to give up, BUT what keeps me going is the WORD of GOD over my life, my health concerns, and honestly, the success I've had since getting on the plan Terry Starks outlined for me. I did not want to take two Blood Pressure medications, and I surely didn't want Diabetes because that disease runs in my family.
How did you change your eating habits?
Terry gave me a meal plan for eating five small meals a day. I cut out many foods I like (bread, sweets, and dairy) because those food choices kept me bloated and craving unhealthy foods. Once I began the Diet Doctor's plan, my cravings for unhealthy food lessened and eventually stopped. I started eating more meat/protein, vegetables, and foods that are good for me and taste good. 
What is your workout routine?
I exercise 30 minutes a day in the mornings, and I walk or do the elliptical for 30 minutes a day in the evening.
Starting weight/Current weight
My starting weight was 230 pounds, and today I weigh 205 lbs. I lost 25 lbs on Terry Starks' program in 35 days. 
What is your height? My height is 5'4″.
Is weight loss surgery part of your journey?
I didn't have weight loss surgery. I trusted GOD that one day I could do this without surgery. Losing weight was a lot easier with proper nutrition. I have tried diet pills, shakes, teas, and (the most expensive) a Personal Trainer but nothing worked until I got a nutrition plan from Terry.
What is the biggest lesson you've learned so far?
I have learned that weight loss is impossible without proper nutrition and exercise. Something that I have been trying to do for years I did in 35 DAYS with the right combination!
What advice would you like to share with women who want to lose weight?
If you are trying to lose weight, first contact Terry Starks to get a nutrition plan that's right for you. Combine nutrition with exercise and stay consistent. You don't know what you can do until you do it! Good luck on your journey. 
Instagram: @tonetteosby
Disclaimer: Reference or link to any specific product, diet plan, exercise plan or service mentioned in the weight loss stories we share is for the information of our readers, and does not constitute an endorsement or recommendation by Black Women Losing Weight.