Transformation of the Day: Zee lost 56 pounds by working out and making healthier food choices. Since childhood, she struggled with the pounds and food addiction. In May 2020, she realized that she had the power to transform her lifestyle and reach her health and fitness goals.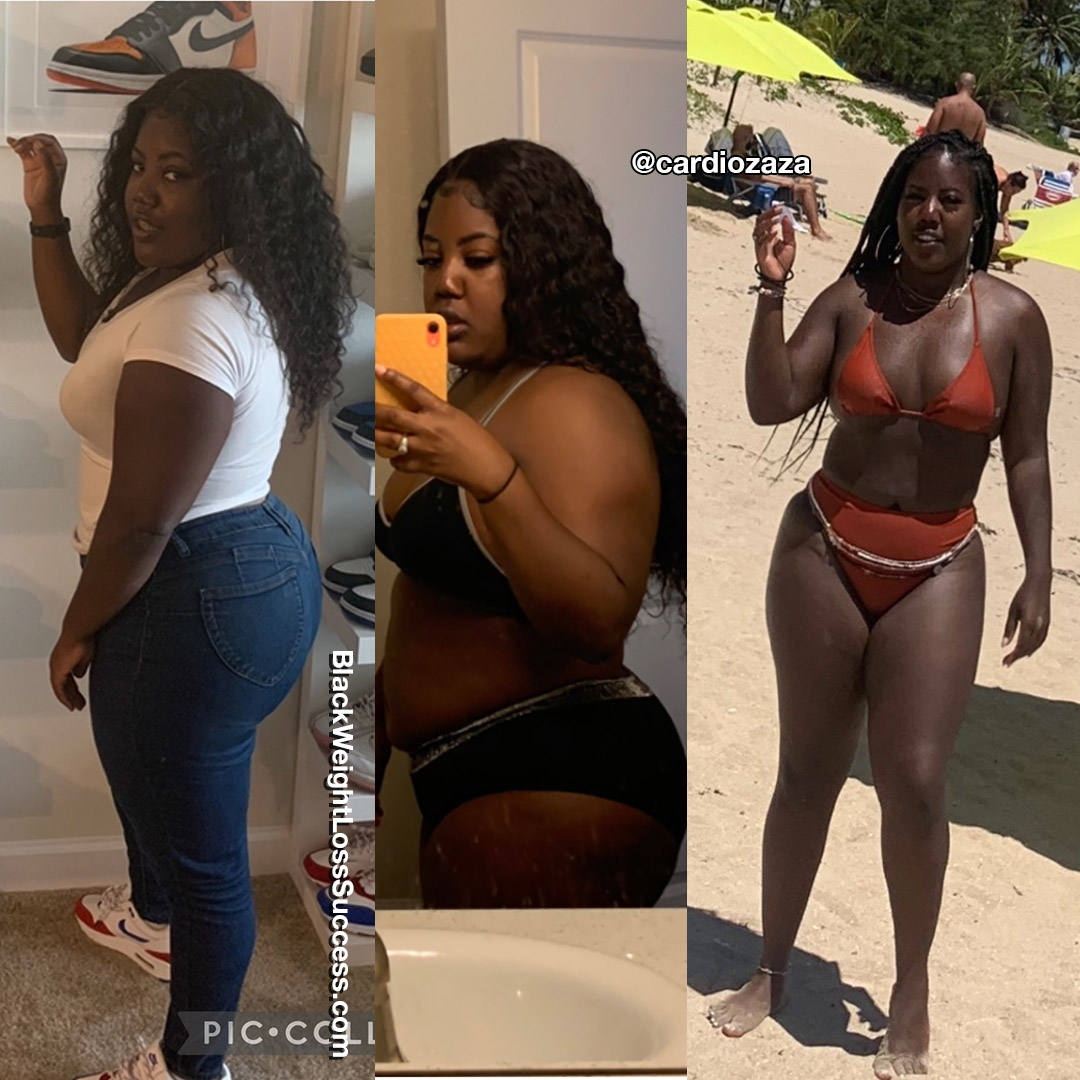 What was your motivation? What inspired you to keep going, even when you wanted to give up?
I've always struggled with being overweight through school (elementary thru high school). I struggled with food addiction from a young age, resulting in being nicknamed 'bad body' in middle school/high school. As the number on the scale crept up, I noticed my lack of energy as well. 
One day in May 2020, I was just like, 'I don't like myself. I'm not healthy or happy. I am the reason I am this way.' As soon as I stopped blaming everyone else for my weight problem, I thought, 'Well, if I did this to myself, I can UNDO this to myself. Day one or one day?'
How did you change your eating habits?
Exercise is essential, but nobody can outrun a bad diet. I decided to ditch the fast food, soda, juice, and unhealthy carbs. Instead, I stocked up on fruit, vegetables, and healthy lean meat. Homemade flavor water became my friend, and my plates were stuffed with roasted vegetables.
In terms of my diet, I tried to be realistic. I'm a sista, and I love soul food and pasta. So instead of eating those foods every day, I ate them once a month.
What did your workout routine consist of? How often did you work out?
I do 20 min of cardio and strength training. Each day I target an area of my body—for example, Monday – glutes, Tuesday – arms, etc. 
What was your starting weight? What is your current weight?
My starting weight was 224 pounds, and my current weight is 168 pounds.
What is your height?
I'm 5'2″.
When did you start your journey? How long did your transformation take?
I started in May 2020, and it took over a year. I'm still on this journey. (it's a lifestyle)
Is weight loss surgery part of your journey?
No
What is the biggest lesson you've learned so far?
I learned that anything is possible. It's all mental (Me vs. me) when it comes to eating healthy and working out. I've grown as a person in so many ways. I've also pushed myself past countless mental and physical challenges. At one point in my life, I couldn't do a single push-up, and I thought pull-ups were impossible. Now I can do both and so many more exercises. I enjoy working out now.
What advice do you have for women who want to lose weight?
Remember, it's all mental. The only person stopping you from getting in shape is you. Let go of genetics, busy schedules, a lack of athletic ability, and your failed attempts in the past. Change your mindset, start believing in yourself, and you'll get there. 
Also, REMEMBER: Do it when you don't want to. And YOU CAN'T OUT TRAIN (OR OUTRUN) A BAD DIET!
Instagram: @cardiozaza