Transformation of the Day: Delisha lost 70 pounds. After her mother passed two years ago, emotional eating led to weight gain, so she decided to change her life. She is determined to be the healthiest version of herself for her young daughter and the two nieces that she takes care of.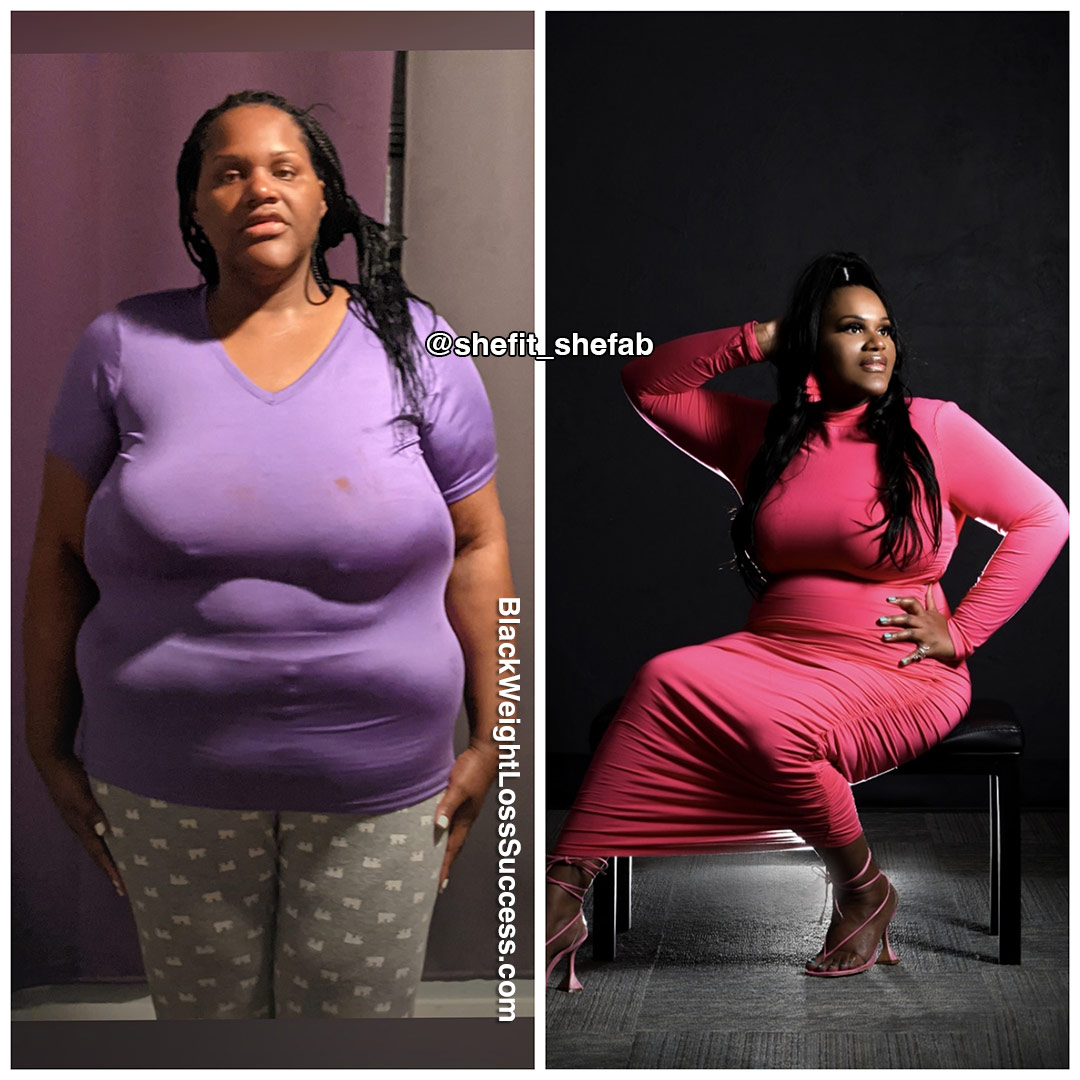 What was your motivation? I lost my mother two years ago due to health issues, and I pretty much ate my emotions. I gained so much weight, and I knew I had to make a change.
I love the Black Women Losing Weight page for keeping me motivated throughout my journey. I am officially 70+ pounds down since July 7, 2021. I plan to reach my 1st goal of 100 pounds by the summer. I wanted to share my progress because this page definitely motivated me.
What inspired you to keep going, even when you wanted to give up? I have a four-year-old and two nieces that I take care of. I wanted to make sure I did everything in my power to be the best version of myself for them. They are my "why" when it gets hard for me. I remember that losing my mom to diabetes was devastating for me, so I have to keep pushing to live longer for them.
How did you change your eating habits? I started replacing two meals with Fairlife protein shakes and had one balanced, healthy meal (example: fish or chicken with lots of veggies and fruit). Also, I had to stop drinking juice and start drinking plenty of water. I would add the zero sugar fruit punch packs for flavor.
What did your workout routine consist of? How many days a week did you work out? In July 2021, I started walking 30 minutes a day three days a week and lost my 1st 20 pounds by August. Then I decided to join Planet Fitness and work out four days a week. I also attend a cycle class every Saturday at Redman Studio in OKC. 
What was your starting weight? What is your current weight? My starting weight was 309 pounds, and now I weigh 239 pounds. 
What is your height? 5'9″
What is the biggest lesson you've learned so far? The biggest lesson I've learned is to be patient with yourself and don't rush the process. I've learned weight loss doesn't happen overnight. You have to take your time and trust yourself. The results will come with motivation and consistency.
What advice would you like to share with women who want to lose weight? I would say take it one day at a time and don't rush the process. Enjoy every moment of your lifestyle change to be a better person. The most important thing to remember is don't give up on yourself. If you fall one day, get back on it the next day and keep pushing. 
Is weight loss surgery part of your journey? Actually, yes. A neighbor and I decided we would get the sleeve surgery. She went to a different doctor in another state on July 6 and passed away due to a mistake the surgeon made. From that day forward, I decided I didn't want to risk losing my life and called off my surgery. 
I decided to give myself one more shot at it naturally, and now I'm glad I chose not to go through with it. Now I actually enjoy working out and eating healthy. I love the energy I have and being able to play with my daughter at the park and go on walks with her.
Instagram: @shefit_shefab
TikTok: @divd_d