Transformation of the Day: RaShonda lost 73 pounds. In 2020, she faced a series of very traumatic events back to back. This led to depression, emotional eating, and weight gain. She found success with a renewed mindset, healthy food, intermittent fasting, and consistent workouts.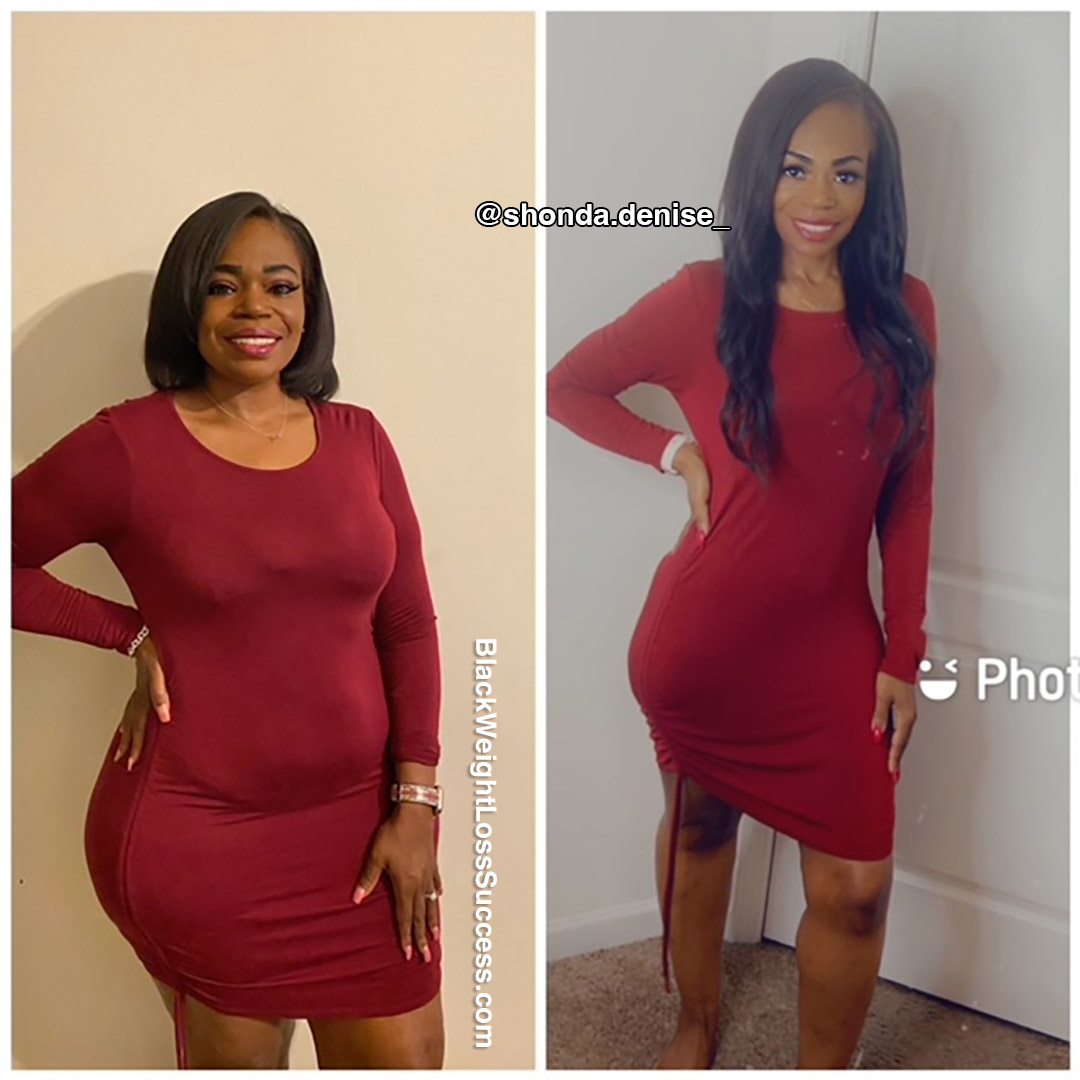 I struggled with my weight from the time I was a teenager. After having five children, I would yo-yo diet and lose weight and keep it off for a few years. Then the weight would slowly creep back on due to bad eating habits. 
In 2020, I suddenly got very sick, so I went to the hospital. I discovered that not only did I have Covid 19, I was also pregnant. As the months went on, I suffered from breathing problems and severe anemia, which eventually caused me to have the baby early. Unfortunately, the baby did not survive. I had to have three different surgeries and two blood transfusions. After going through such traumatic events back to back, I became severely depressed. I once again turned to food. 
By the beginning of 2021, I had gained 70 pounds. It was difficult for me to get out of bed most days. Then, in August 2021, I saw an old doctor I hadn't seen in years. She did not recognize who I was because of the weight gain. I was embarrassed, but it was the wake-up call I needed. She told me I weighed 214 pounds, which was the heaviest I had ever been in my life. 
My back ached. My knees hurt. My depression was so deep. I was officially at the lowest point in my life. My doctor recommended intermittent fasting. I was skeptical yet desperate, so I went home, did my research, and decided to give it a try. I started fasting on the 16:8 schedule (eating only during the 8-hour window and fasting for 16 hours). I began to lose weight slowly. In three months, I had lost 26 pounds. I was ecstatic! The results motivated me to keep going.
How did you change your eating habits?
I cut out sugar, dairy, alcohol, and alcohol. I also limited my carb intake. I started eating protein and vegetables and drank lots of water. Eating protein (chicken and fish), vegetables, and water kept me full most of the day, making fasting easy. I have my last meal at 6:00 pm and eat a late breakfast around 11:00 am.
What did your workout routine consist of? How many days a week did you work out?
After three months of getting my eating under control, I started going to the gym. I started by walking for 30 minutes a day. Eventually, I got up to an hour a day. Now I can run. I currently work out 4-5 days a week. I also lift light weights five days a week.
What was your starting weight? What is your current weight?
My starting weight was 214 pounds. Now I currently weigh 141 pounds.
What is your height?
My height is 5'4″. 
When did you start your journey? How long did your transformation take?
I started my journey on August 9, 2021. My transformation took seven months.
Is weight loss surgery part of your journey?
Weight loss surgery is not a part of my story.
What is the biggest lesson you've learned so far?
The biggest lesson I have learned on this journey is self-love, patience, and consistency. This journey has taught me that as long as I make healthy choices on a consistent basis, the weight will come off. I learned to love and forgive myself for not always getting it right. I learned to accept myself. I gained so much self-confidence, and I believe in myself again.
What advice would you like to share with women who want to lose weight?
The best advice I have for women who want to start losing weight is to start out small. Please don't overwhelm yourself by trying to do it all perfectly. Start gradually by changing your eating habits. After getting your eating habits under control, try exercising a few times a week for 30 minutes and build from there. It also helps to have a WHY and believe in yourself. You can do anything you set your mind to.
Instagram: @shonda.denise_