Transformation of the Day: Drea lost 46 pounds. She was tired of being in a state of exhaustion and watching her feet swell. By making healthier food choices and making fitness a priority, she got results. This Zumba instructor is on a rewarding mission that allows her to help people get fit and healthy.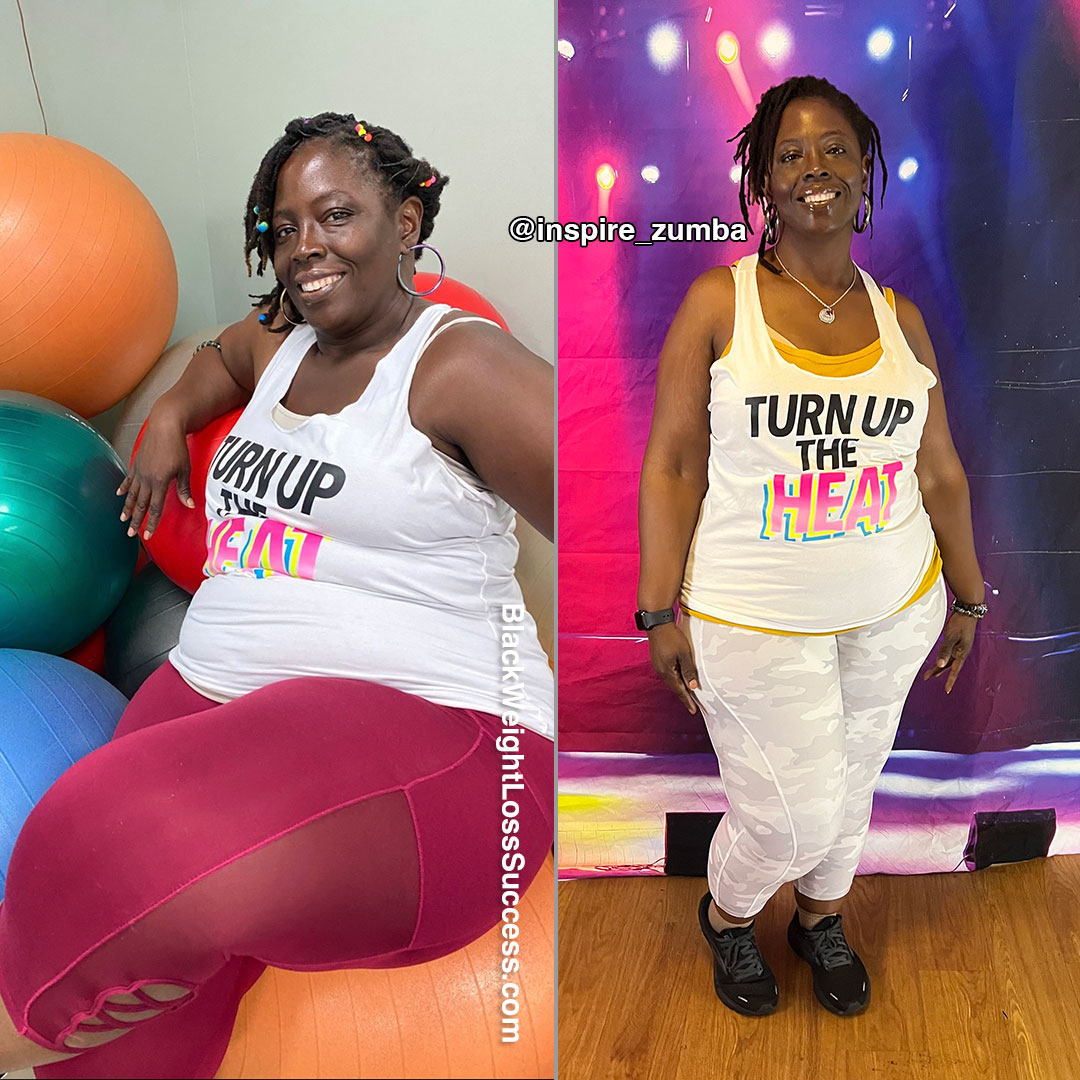 What was your motivation?
My motivation for losing weight was wanting to be healthy. I was watching my feet swell. I felt very tired and exhausted every day and knew I had to do something. I knew I had to start losing weight, walking, and making better food choices. This decision was the beginning of my rewarding mission that continues to improve my life.
How did you change your eating habits?
My first change was the amount of meat I consume, especially red meat, because of the swelling in my feet. I began eating more vegetables and fruits. I still ate chicken, but I mostly ate seafood. I stopped drinking drinks altogether and stopped eating many flour-based white products (Starch).
I'm not too fond of drinking sweets, but I love eating them, so that was a struggle. I started to limit the amount of sweets I eat each week. Now, I might eat one or two high-calorie sweets a month.
What is your workout routine?
I took this opportunity to bring others on this weight loss journey with me. I am a plus-size Zumba instructor, so I started teaching Zumba three times a week. On other days I walked or used my body weight to strength train. I aim to work out six days a week.
What was your starting weight? What is your current weight?
I started this journey at 276 pounds and currently weigh 230 pounds.
What is your height?
I stand at the height of 5'5″.
How long did your transformation take?
So far, it's been about six months. I started this journey on November 4, 2021.
Did you have weight loss surgery?
No, weight surgery is not part of my journey. My journey has been hard work and takes a lot of dedication. For me, it's a lifestyle change that can be achieved without surgery and will be achieved by my work, sweat, tears, and focus on my goals. 
What's the biggest lesson you're learned so far?
To stay focused and stay consistent. I learned to place myself around positive people. I also learned to love who I am and focus on being the best me, day by day.
What is your advice to women who desire to lose weight?
Make the decision that you want to be your best woman ever. Make the decision that you want to live for your kids, grandkids, family, and loved ones, and primarily for yourself. Don't decide to lose weight based on a man. Instead, do it because you love who you are and desire to be your best self. That way, you can do all that you want to do and show off all the goodness God gave you just by deciding to go out there and give it all you got with your womanly Grace.
Instagram: @inspire_zumba
Tik Tok: @inspire_zumba
www.facebook.com/InspireZumba1