Transformation of the Day: Eugenie lost 106 pounds. #fitover60 She committed to a new healthier lifestyle, which included counting macros, working out with a trainer, and practicing meditation and visualization. Eugenie explained what she did with great detail, so don't miss out on this story.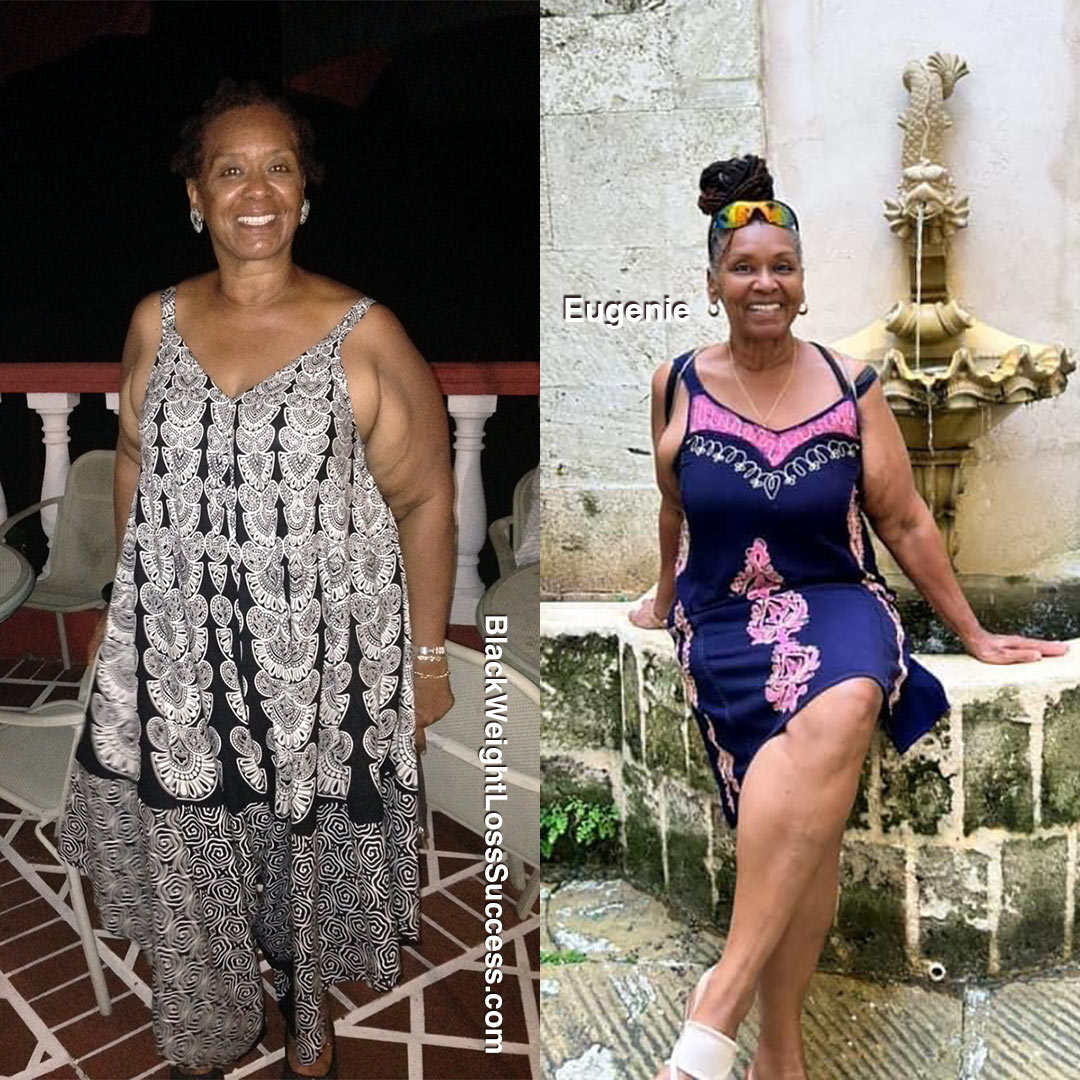 What was your motivation?
I simply wanted to be healthy and avoid complications of diabetes that affected my mother: blindness, heart disease, and early death. I also wanted to finally have the body I always wanted but never seemed to succeed in achieving. 
After retiring at age 63, I finally had time to invest in myself and decided to be the person I always envisioned and make my weight loss a post-retirement gift to myself.  
How did you change your lifestyle?
I adopted all the habits that I imagined a healthy, fit, secure woman would probably have; healthy eating, not over-stuffing myself, exercising regularly, manicures, pedicures, facials, girl's day outings, and events that were more activity-based and did not revolve around food. 
I remarried, and my husband decided to make my dream transformation his project as well. He ensured we had gardens with a variety of organic vegetables, kept rabbits and chickens for range-free eggs, and sources of chemical-free, lean meat. He also built me a home gym, and I hired a personal trainer who worked with me three to four days a week. I practiced yoga, started to meditate regularly, and practiced visualizing myself as I wanted to look. I documented my health journey on my FB feed for accountability. 
I am a foodie. Therefore, I do not eliminate specific foods from my diet -except sugar and foods with added sugar. I do indulge in a cookie or a piece of cake every so often- but I no longer have a taste for it. I also take a multivitamin and other supplements. 
My liquids are water, coffee, tea, wine (less than four ozs with my evening meal), and the occasional scotch and water when out. I love to bake bread, cook fancy meals, and enjoy good wines. 
While trying to think like a thin person, I practice moderation in my eating habits. My before work out meal is usually a protein bar, fruit, and coffee (with cream and sugar substitute). A few hours later, I might have a few eggs with wasa crackers or some oatmeal, mixed nuts and fruit, OR one of my wonderful rolls and some peanut butter or cheese (sharp or cottage), coffee or tea, and another serving of fruit. I generally don't eat again until supper, when I eat a small plate of whatever meal has been prepared (which will include some sort of carb, protein, and veggies). Or I will have an appetizer and a dinner salad with protein in it if I am out for dinner with a glass of wine.
I am not a desert person and generally have a plain expresso and a piece of dark chocolate after dinner. Before bed, I have a sugar-free Greek yogurt or a cup of tea, depending on how full I am after dinner. Sometimes I have nothing. 
I monitor my macros and treat my calories like money. I aim for a minimum of 100 grams of protein, 50 grams of fiber, and no more than 80 grams of carbs daily. I try to eat at least two pieces of fruit daily, three or four portions of veggies daily, and a serving of complex carbs. I supplement with protein bars to get my full allotment of protein. I also have "blow-it" days when I eat whatever I want. 
My calorie intake used to be 200 calories higher than my BMR to maintain a calorie deficit. It now is at whatever calorie requirement I need to maintain my current muscle mass, bone density, and fat levels for optimum health. So, if I blow my calorie intake on one meal, I am free to have salad, plain vegetables, and water for the rest of the day. Because I am a foodie and love to eat, I try to avoid eating something that will blow my calorie budget early in the day and have me eating like a rabbit for the remainder of the day.
What is your height?
I am 5 feet, 6 inches in height. 
What was your starting weight? What is your current weight?
I do not weigh myself. I get body composition analysis done – initially monthly, but now every two to three months to ensure that I am on track. I currently have a BMI of 30, ranging between 190 and 193 pounds. At my heaviest weight, I was 296 pounds and fluctuated between 245 and 250 pounds just prior to my final weight loss commencing in 2019. 120 lbs of my current weight is muscle mass. My fat levels are 34%, my visceral fat is average at level 9. I am in a standard muscular body range – which is pretty good for a female aged 66. I am a controlled diabetic with an A1c of 5.6.
What do your workouts consist of?
I do sets of heavy lifting combined with strength mobility for 45 minutes three days a week. I also do Hatha yoga for one hour per week. I take nature walks and hikes regularly. I also live only a few minutes from a beach and swim on a regular basis in the warmer months. Because we have gardens and animals, my days are active. We also do our own home maintenance, which can be a workout in itself. 
I knew at age 66 that my body would not bounce back from massive weight loss, and I prepared myself for this eventuality. I invested in thread lifts and fillers to prevent the sunken-in look on my face. I worked with a top-notch surgeon and a first-class medical team to remove a hanging pannus. The surgery was not a walk in the park, but because I was fit, my recovery was rapid. I still have loose skin and flab on my legs and arms, but I am comfortable in my skin. I look at that bit of flab as my badge of honor for the massive amount of fat I lost in my health and fitness journey.
What is the biggest lesson you've learned so far?
Every woman has her journey, and there is no one fix for weight loss. My success finally came when I stopped focusing on and hating measuring my worth by numbers on a scale, a Eurocentric body type, and BMI (that was normed on white males). I stopped depriving myself of foods I enjoy and not trusting myself to exercise good judgment. I started to embrace who I believed I was and live the lifestyle of a fit and healthy woman. I constantly told myself that I always was beautiful, am currently beautiful, and will continue to be beautiful for the duration of my current health journey and beyond, God willing. It did not happen overnight, but I evolved into the person I want to be, and this lifestyle is now my life. 
What advice would you like to share with women who want to lose weight?
If you see weight loss only as a goal (i.e., achieving a magic number on a scale or a dress size), you might find it difficult. Sustained weight loss is a transformative process requiring a change of mindset and lifestyle. If you focus on developing a lifestyle of health and fitness and on the small wins, the process tends to be more manageable as each day brings another non-scale victory on your way to success.