Transformation of the Day: Sheena lost 11 pounds by focusing on healthy food and fitness. This mom wanted to feel good, look good and be as healthy as possible, physically and emotionally. She's not waiting until the end of her journey to celebrate her success.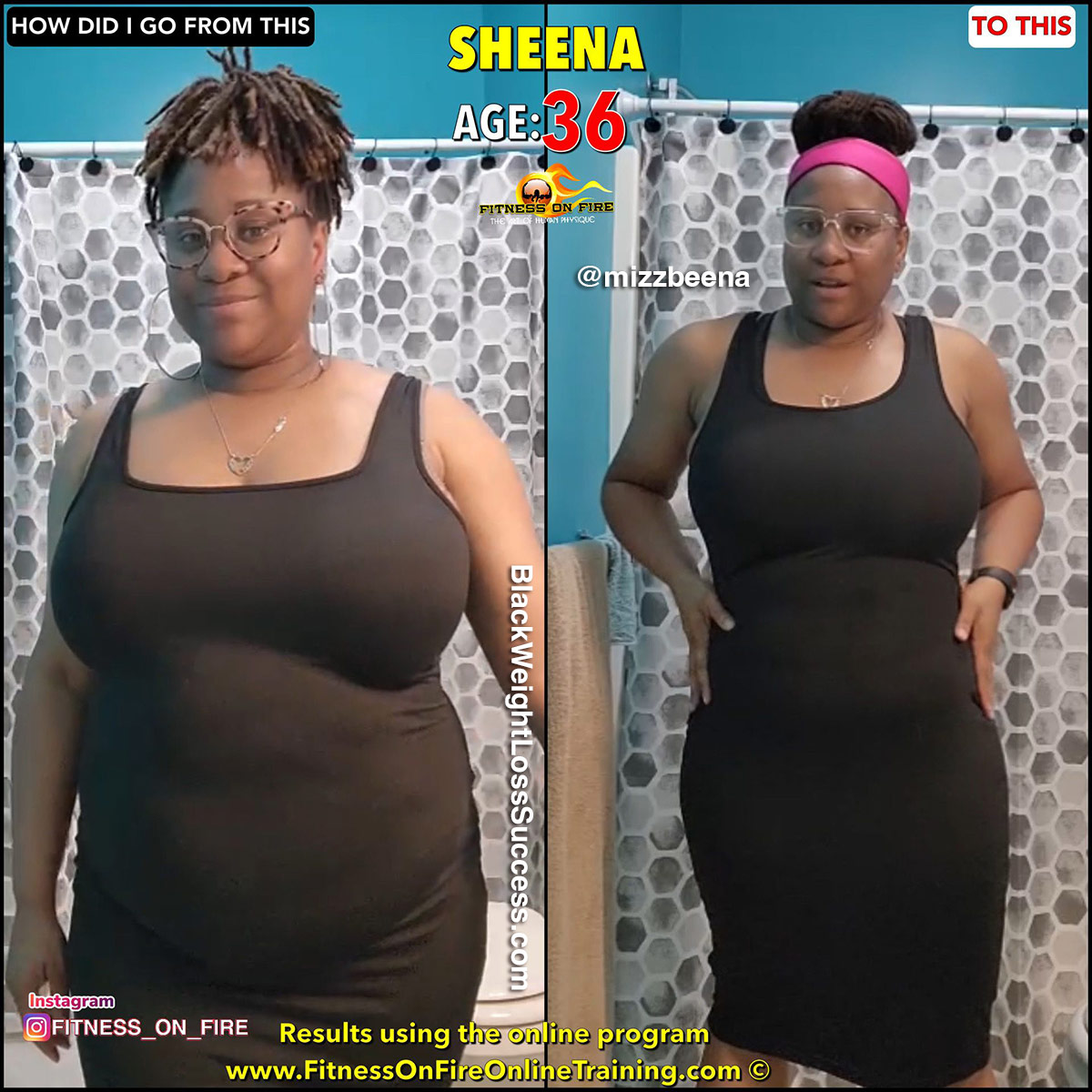 Age: 36
Height: 5'5″
Starting Weight: 214 pounds
Current Weight: 203 pounds
Weight loss: 11 pounds
Social Media
Instagram: @mizzbeena
What was your motivation?
My motivation was and still is my daughter and my health. I want to feel good about myself, look good for myself, and be as healthy mentally, physically, and emotionally as possible. This journey is personal. 
What inspired you to start your weight loss journey?
I went through a hard pregnancy once I hit about four to six months. I developed sciatica and also hip, back, and pelvis problems. I went from being extremely active to not hardly being able to move. 
I delivered and thought that I would be able to have relief and get active like I was before. But, boy, was I wrong. Zoie turned nine months, and I was still in physical therapy and going to the chiropractor every week. So after I got released from everything, I said, "I HAVE to get my weight back down." I knew exactly what program to depend on. 
Before restarting the Fitness on Fire program, I was at my heaviest weight: 260 lbs. But I started the program weighing in at 214 lbs. Since starting the program, I am down to 203 lbs.
How long did your transformation take?
My transformation to where I am now has taken about a year and a half. However, it wasn't until recently that I achieved my transformation and results through Fitness On Fire, which has taken about three months. I'm motivated to keep going. 
How did you change your eating habits?
My biggest change was switching to a low-fat, high-protein diet. Also, as a new mom, I recognized that I couldn't fix all my meals as I did previously. So I did meal prep through Stacey with KWU Health and Wellness here in the Birmingham, AL area. 
What did you stop or start eating?
There was not a significant change in what I started or stopped eating. It was literally changing my portion sizes and finding foods that are low or non-fat options. I also followed the simple structure that my online nutritionist from Fitness on Fire provided. 
Tell us about your workout routine.
I go to the gym between 3-6 days a week. I do the workout regimen given to me by my online trainer, "King of The Fire ."The workouts are easy, and you see results. 
What advice do you have for people who want to lose weight?
Just do it!!! Don't start on Monday and don't start on the first. Start today. Love your mind, body, and self. 
Join the Fitness on Fire Program. You've seen the ladies they've showcased over the years. I got on board, and so should you! You will not be disappointed. Tell your mama, cousins, friends, everyone. 
To me, this program offers support like no other program. Being held accountable by both the Trainer and Nutritionist is everything to me. The accountability part helps me the most. Also, seeing the changes and getting compliments is motivating. I did well in other programs, but my consistency would fall off because of having to be self-motivated. That becomes hard after a while. On the Fitness on Fire program, they are with you every step of the way.