Transformation of the Day: Lamiesha lost 143 pounds with healthy food and lots of exercise. A couple of years ago, she took a photo with her grandfather that served as her wake-up call. She didn't realize how much weight she was carrying until she saw the picture, which inspired her to start her transformation journey. She took full responsibility for her unhealthy habits and fully committed to her new lifestyle without compromise.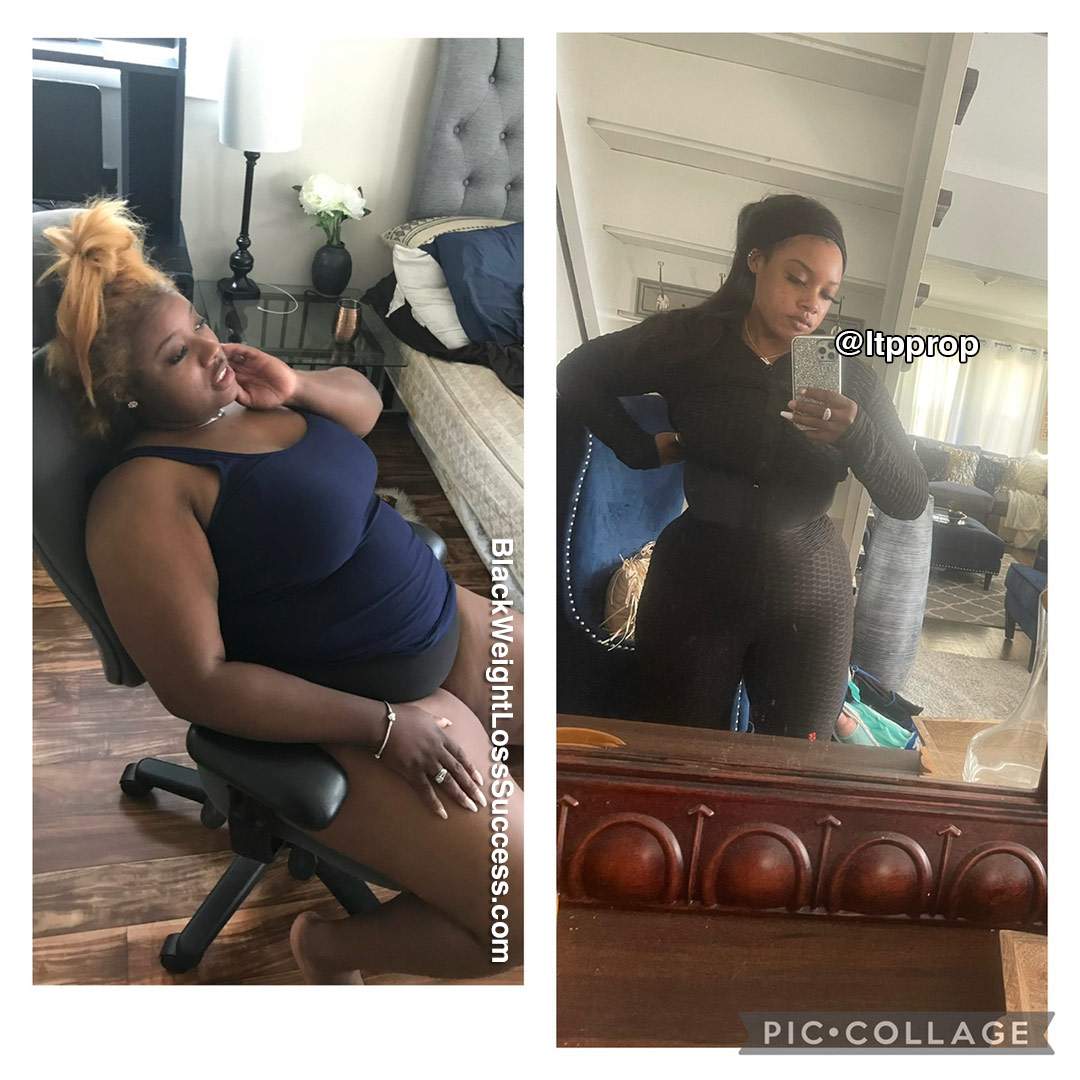 Social Media:
Instagram: @ltpprop Updated: @thehealthy_mi

I want to share my story to motivate and reach people who really need that help, push, and motivation to get up and begin! 
What was your motivation?
What made me begin my journey? It started with a photo I took a couple of years ago with my grandfather. When I saw that photo, I realized how big I had gotten. It was almost like I didn't even realize that I was that big. 
I told myself in December 2020, "You put yourself in this position, and you are going to get yourself out of this position." That's exactly what I did! 
How did you change your eating habits?
I started by cutting ALL bad foods (sugar, grease, heavy cheese, chips, etc.) out of my daily routine. It was time to eat healthy vegetables, protein, fish, turkey, and drink water, water, and more water! 
I told myself every day, "You will drink eight bottles of water." And that's what I did. Many may think I was hard on myself, but I said, "I've been too easy on myself." It was time for change, not just any change but a life change. 
What was your starting weight? How long did your transformation take?
I weighed myself in December of 2020, and I weighed 329 pounds. I told myself that I would be at least 300 pounds by February. I worked out 3-4 days a week. So I started increasing my days in February to 6 days a week! I was not joking.
When March came, I decided to weigh myself because I started seeing my body getting smaller than it was in December 2020. In March, the scale said 287 pounds. I was so happy, and I couldn't wait until June! 
When June got here, I weighed 249 pounds. I kept going, going, and going. Even when I was so tired, I didn't stop. Why? Because I'd brought a new wardrobe. I had new and smaller clothes waiting for me to wear. 
When July-August arrived, I was wearing a size 15 in jeans. Coming from a size 20-22, that was huge for me. My goal was to wear a size 10 before the end of the year. Can you believe when December 2021 got here, I was wearing size 10 pants that I purchased from H&M. I cried from happiness. 
Currently, I weigh 186 pounds, and I'm in the gym five days a week. I'm so happy with my accomplishments! 
What is your height?
My current height is 5'5″. 
What did your workout routine consist of?
My workouts during my journey consisted of using the Stairmaster for 30 minutes, elliptical for an hour, and weight training for an hour. In total, I would spend six days a week in the gym for about 2 1/2 to 3 hours. My goal and dedication were to get the weight off of me! 
What advice would you like to share with women who want to lose weight?
What you see now does not have to be permanent. If you want something done, you can get something done. It's about putting your mind to it, putting forth the effort, and being consistent. Stay strong and dedicated and trust the process. 
I'm sharing my true journey to help people and let them know that you can do anything that you force your mind and body to do. Do you want it done? You can get it accomplished!