Transformation of the Day: Laura lost 29 pounds/13kg. By embracing healthier eating habits, Intermittent Fasting, and brisk walking, our Nigerian sister has transformed. She was motivated to keep going as she had less inflammation, clearer skin, and looser clothing.
What was your motivation?
My motivation was to change my eating and lifestyle habits which were not healthy. Considering that I was feasting on junk food, eating late, eating primarily carbs, and doing little to no exercise, I needed to make a change.
What inspired you to keep going, even when you wanted to give up?
What inspired me was seeing my results in pictures, my clothes fitting loosely, and encouragement and compliments from my family and friends. Also, l noticed my skin clearing and my inflammation disappearing. All of this gives me positive vibes.
How did you change your eating habits?
Slowly, l started eating right and clean. My focus was reducing my portion sixes and gradually cutting out unhealthy foods. I practiced Intermittent Fasting as a guiding plan, which has become my lifestyle. As much as possible, I avoid eating late meals after 8 pm. I also drink at least 64oz of water daily.
What did your workout routine consist of? How often did you work out?
My favorite workout routine is brisk walking. I committed to walking five miles 4-5 times a week. Sometimes I walk between 10k – 15k steps a day. I also used the stairs more often.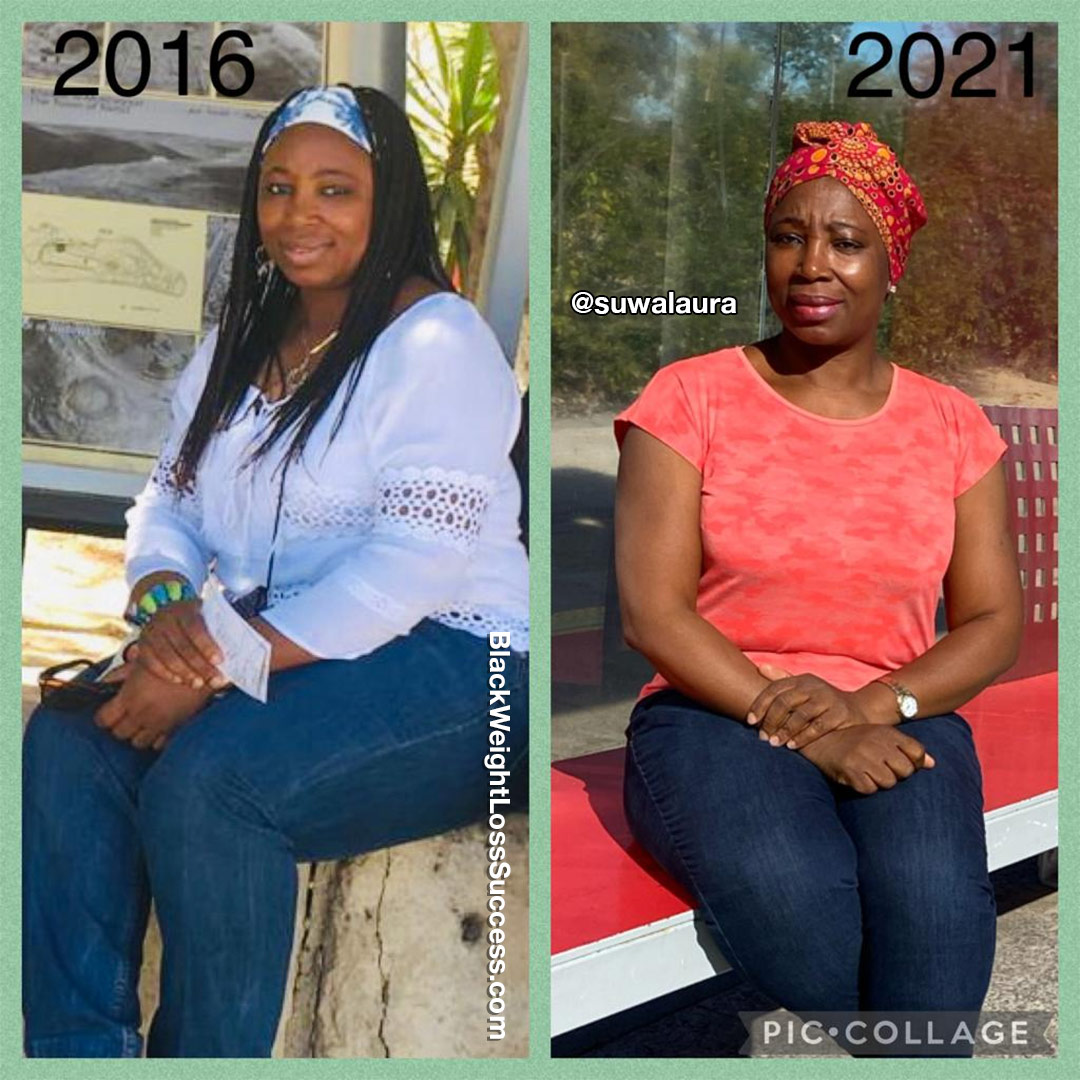 I have apps (Stridekick and Pedometer and MapMyWalk) that keep me accountable. In addition, I do monthly challenges with a group of RoadWarriors and a community of friends.
What was your starting weight? What is your current weight?
My starting was 97 kilos/214 pounds, and my current weight is 84kg/185 pounds.
What is your height?
I'm 5'2″.
When did you start your journey? How long did your transformation take?
After having two kids, l became overweight. My journey started when l turned 39 years old in 2011. I wanted to shed weight because my clothes were not fitting. My transformation started slowly and the changes were visible, but l was on and off. So, l regained the weight. Then I saw photos of myself, and I decided it was time to get serious about my health. 
My transformation is evolving daily. I would say this particular phase of my journey has taken between one to two years.
Is weight loss surgery part of your journey?
Thankfully, surgery is not part of my weight loss journey. I am a COVID survivor, and l felt that God was giving me a second chance to live life again. I want to live my best life by consciously taking good care of myself as best as l can. 
What is the biggest lesson you've learned so far?
Walk your lane. Don't compare your health walk to someone else's but learn from others how to improve. There is no destination with a healthy lifestyle. It's a journey to keep improving. Over time it becomes a habit. Start small, stay on course, and the results will definitely come. Being patient is a trait you will need on this journey. 
The weight loss doesn't happen overnight. It needs to be sustained, and you have to make it worth your while. It is a life journey, not a sprint.
What advice do you have for women who want to lose weight?
Start now/When you can, not tomorrow. Make minor changes to your diet and start with exercise routines that aren't too difficult. For example, I started with 2 miles a day. Today I work out 3-4 times a week and commit to 3k steps daily. 
Every day is a gift to do what you can with the grace and drive you've received from God. A journey of a thousand miles begins with a single step. Keep stepping around your home, walk the stairs, or walk to the grocery store. Join a group of friends or download a health App. (Personally, l recommend Stridekick and Pedometer Apps.) Set realistic health goals. For example, here are some of my recent goals;
Take 3k daily steps

Take 250k steps monthly

Intermittent Fasting – 13-18 hours daily

Drink warm lemon water daily

Drink 64 oz of water each day

Avoid eating after 8 pm
Keep stepping! One day at a time.
Instagram: @suwalaura