Niera lost 62 pounds by focusing on fitness and nutrition. She took the time to change her eating habits over time, not overnight. She also learned to love weight lifting/strength training. Her hard work is paying off.
What was your motivation? What inspired you to keep going, even when you wanted to give up?
What inspired me to start my journey was the fact that I was tired of being the same overweight and obese girl I'd been my whole life. What kept me going was not wanting to be who I was before, which was depressed and having suicidal thoughts. 
Now I can help my mom on her current weight loss journey, and I couldn't be more proud. 
How did you change your eating habits?
My eating habits changed over time, not overnight. I did it by getting 1% better each day. First, I decided to give up fast food, junk foods, soda, anything high in sodium and trans fat, etc. I also started using Herbalife nutrition which helped me tremendously by teaching me healthy eating habits. 
I try to eat more plant-based foods now. I'm not a vegetarian/vegan, but if I can learn to eat cleaner, I will. I love my green veggies, and I like to have a colorful plate. I drink lots of water, eat every 2-3 hours, and I don't skip breakfast! I have my shake and energy tea twice a day and take vitamins two to three times a day. 
What does your workout routine consist of?
Along the way, I figured out that I love weightlifting/strength training. I started by working out 2-3 times a week doing cardio and strength training. Now I'm working out 4-6 times a week.
What was your starting weight? What is your current weight?
My starting weight was 385 pounds, and my current weight is 323 pounds. 
What is your height?
My height is 5'7″.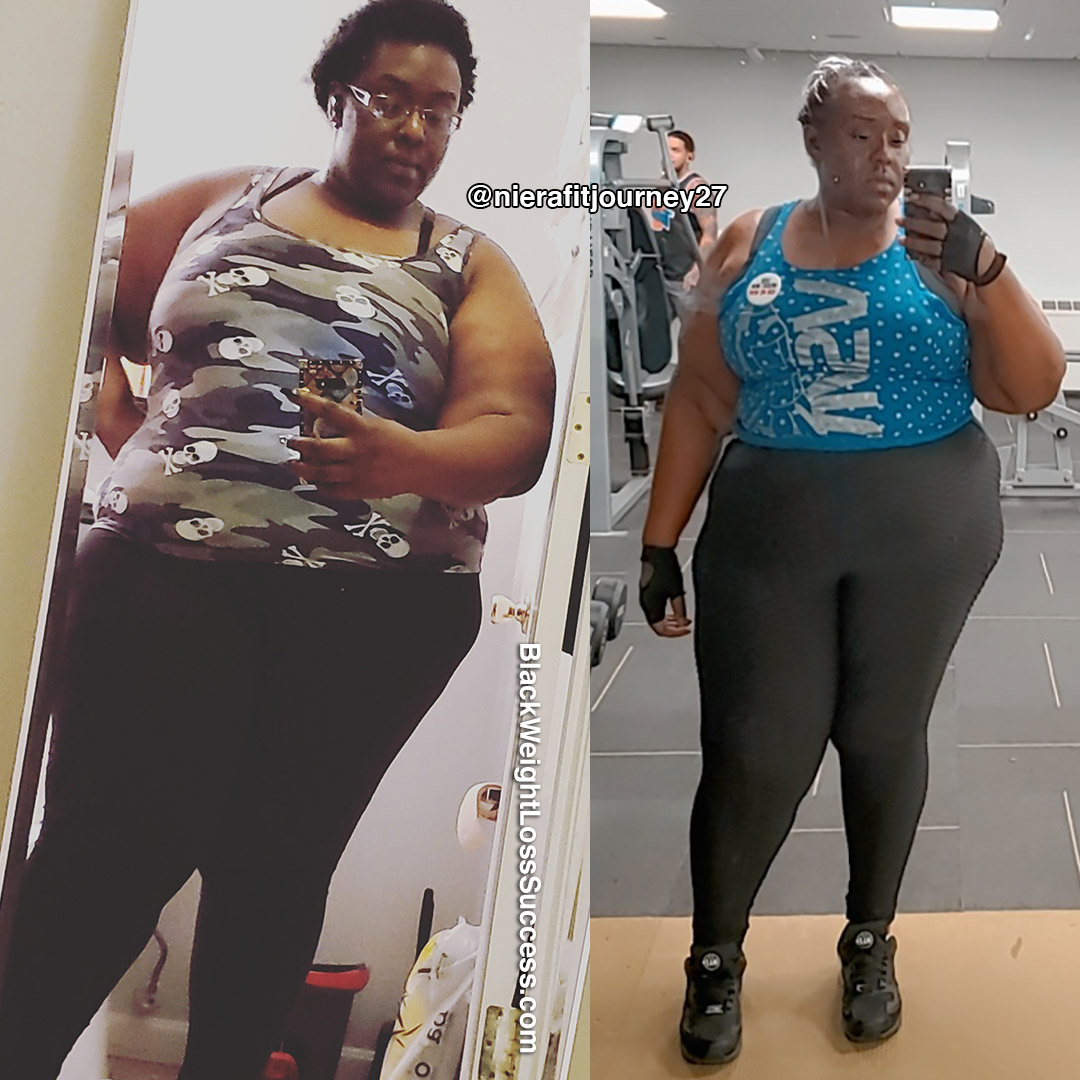 When did you start your weight loss journey?
I started my journey in October 2020. So till now, my transformation took a year. 
Is weight loss surgery part of your journey?
I never had weight loss surgery. I just followed my meal plan with Herbalife nutrition, did my workouts, and stayed consistent. 
What is the biggest lesson you've learned so far?
Find your why because that will keep you disciplined, and that will give you a reason to get out of bed and get sh*t done.
What advice would you like to share with women who want to lose weight?
Start before you are ready, and do not depend on feeling motivated all the time. Feelings change, but discipline remains the same. Start listening to personal development resources and change your mindset!
Instagram: @nierafitjourney27