Update January 2018: Valerie lost more than 100 pounds and has worked to keep the pounds off. She experiened a significant loss when she gave birth during the 5th month of pregnancy and her baby passed away. Grief and depression have not stopped her. She is taking life one step at a time.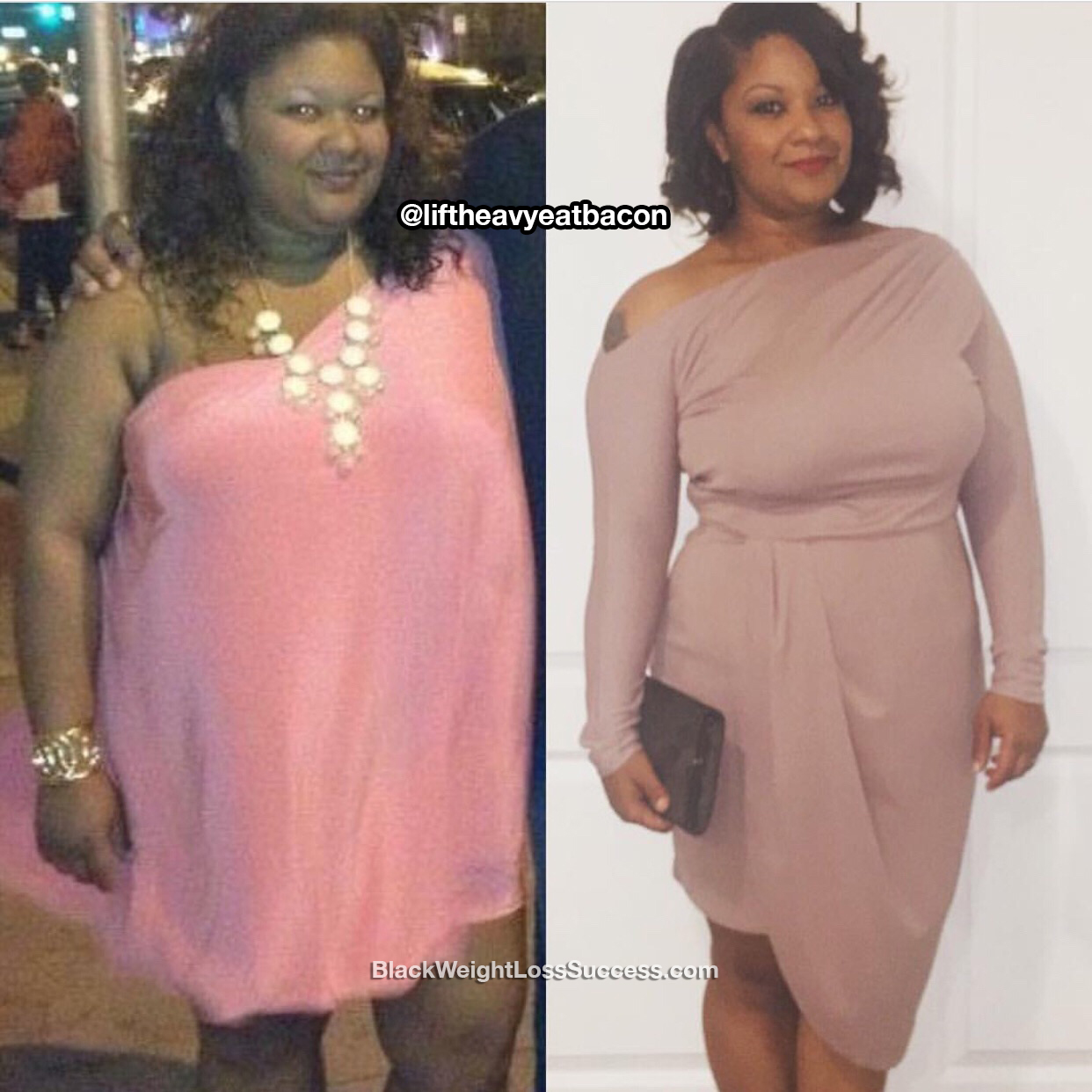 Wanted to send in an update to my story since so much has changed in the last few years since I first started reading your website! My story started when I turned 30 years old in 2012. I weighed 280 lbs and was depressed. I started working out, and 3 years later I was down to 175 pounds. I continued working on myself and was hoping to compete in a bodybuilding competition.
In 2016, we decided to add to the family and I got pregnant. At 5 months, I delivered and my daughter died at birth. I was crushed and depressed again. My weight reached 250 pounds.
After I was cleared to work out again, I started weight lifting because I know it produces really great results for me. I work two body parts a day, 5-6 times a week. I also do interval cardio (HIIT) for 15 minutes, 3 times a week.  As far as eating habits, I don't follow any particular diet. However, my eating style is high protein, lower carb and moderate fat. I monitor my macros and calories daily.
Fast forward to today… I'm down to 200 pounds and still working to get back to 175 pounds. I'm talking to someone about grief and just trying to do my best to take care of myself. It was a struggle to experience the weight gain with no baby to bring home. It's like I gained weight for no reason, but with a great support system I'm doing better and just taking it one day at a time.
Updated pictures: In the pink dress, I weighed 280 pounds. The photo is from when I turned 30 years old. The second pic is from when I turned 35 years old. The other before and after photos (with the dates) show how I've been doing since I had the baby.
Instagram: @liftheavyeatbacon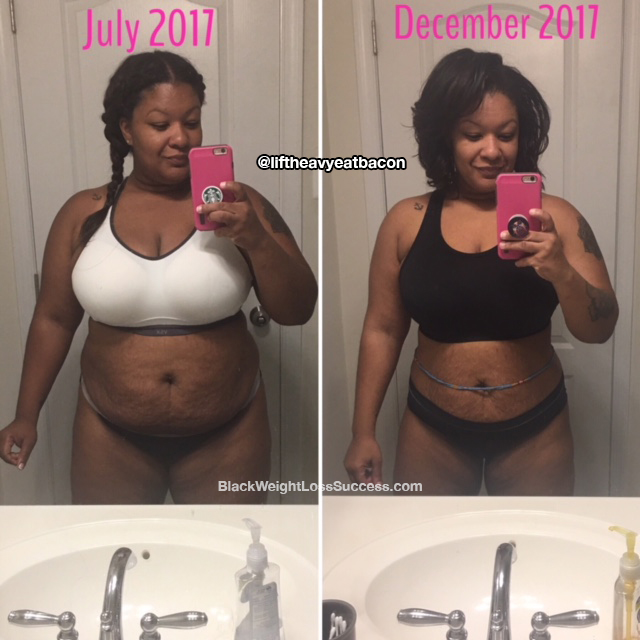 ---
Transformation of the Day: Valerie lost 102 pounds. After she saw the photos from her 30th birthday celebration, she knew that she wanted to change her life. For the last 3 years, she's been changing her relationship with food and working out hard. Read her awesome story.
I started my journey after seeing a picture of myself at my 30th birthday party in Miami. I weighed 280 pounds and I couldn't believe it. I needed a change, immediately!
I changed my eating habits by monitoring my portion sizes, cutting out fast food and cutting out fried food. I started to log all my meals in My Fitness Pal to keep track of what I was eating.
When I first started, my workouts were mostly cardio and a little weight  lifting. Then, after I gained some of the weight back, I got a trainer and started lifting more weights and cut down on the cardio. Now, I do strength training 5-6 days a week and the sessions are usually about 90 minutes to 2 hours. I finish my workouts with 20 minutes of sprints, 2-3 times a week.
I am 5'4″ tall and my highest weight was 280 pounds. Today, my current weight is 178 pounds. I have been working on this process since January 2013. I haven't had any surgeries and I don't use wraps or any other products to help with skin tightening or weight loss. I do use supplements like Whey protein and BCAA's.
My advice for others would be to start lifting weights and don't just rely just on cardio. Weight lifting won't make you "huge" or "bulky", and it can really increase your results in terms of fat loss. My goal is to compete in a bodybuilding competition by the end of this year. Also, I recently became a trainer in my gym.
Instagram: @valerietynes