Transformation of the Day: Yinka lost 105 pounds with clean eating and exercise. God and her faith motivated her to take better care of her temple and transform physically and mentally.
My name is Yinka. I'm from Chicago, and I'm 33 years old. I started my weight loss journey in 2010. With time, I was able to lose over 100 pounds. 
We know that fitness, nutrition, mindset, and consistency are crucial for weight loss. But you want to know what the biggest motivator is for me? It's simple, 𝐆𝐨𝐝.
Our bodies are temples of the Holy Spirit. I honor God by caring for my body through exercise and clean eating. People always tend to forget this part. We need to be stewarding our bodies!
Exercising is worth so much more than losing weight. It is a way to show God our obedience, honor Him and take care of the temple that he dwells in.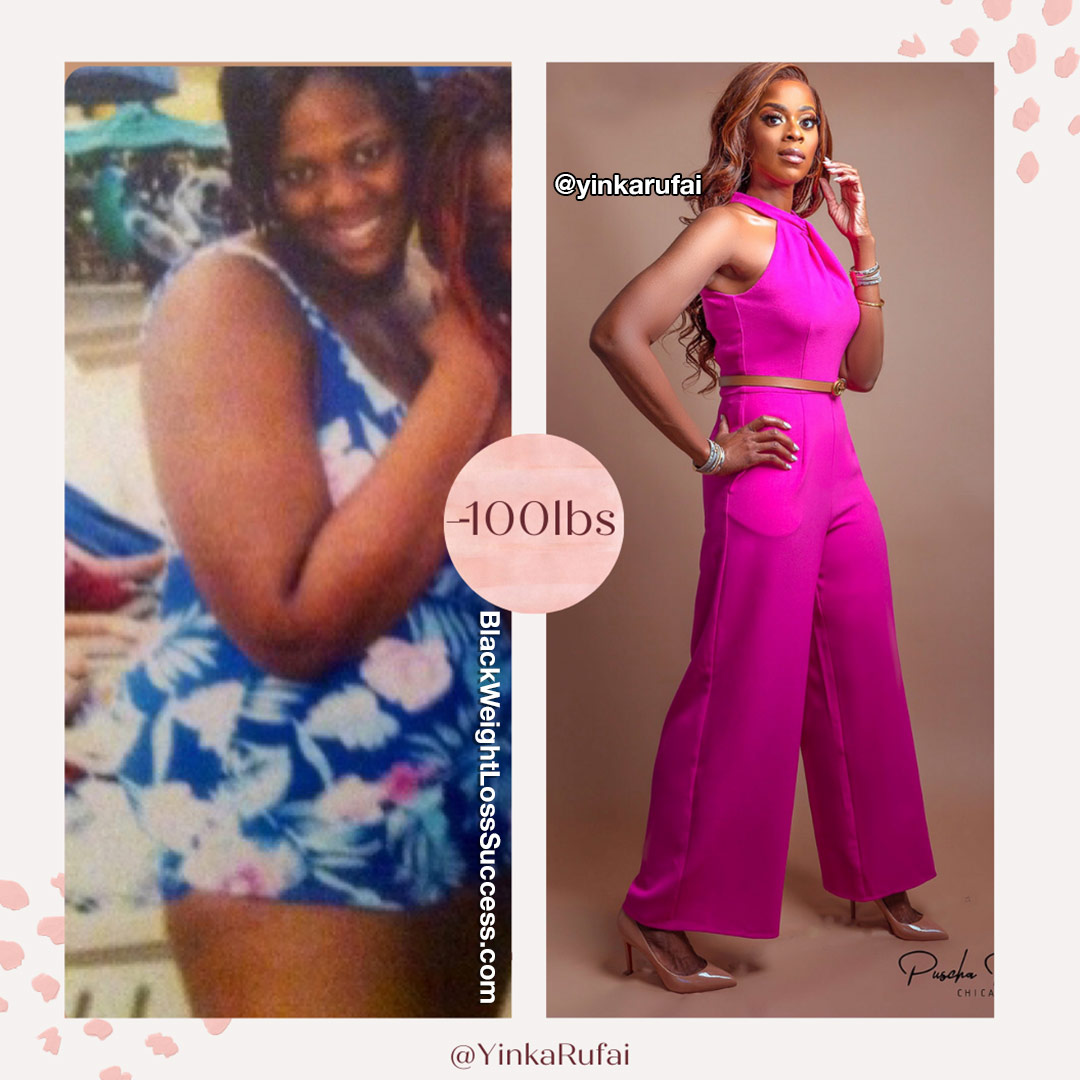 How did you change your eating habits?
I love pasta and pizza. Instead of eating the heavier carbs, I decided to replace my pizza crust with cauliflower pizza crust, along with things like rice. I use cauliflower rice versus traditional rice.
I also love sweet and sour sweets like sour patch kids. I still give myself the grace to eat those things. However, instead of beating myself up about it, I accept it as life. It is not realistic to assume that we will eat 100% clean 100% of the time. 
I do not eat sweets as much because now. I've learned how to control my appetite through my weight loss program, but I give myself grace and eat it when I crave it. Then, I choose to wake up the next day mentally prepared for a healthy day without sweets. If I eat right 80% of the time and 20% of the time, I can live a little.
What did your workout routine consist of?
My workouts are a mix of cardio and strength training. I make sure to incorporate 20-30 minutes of HIIT (I do it on the elliptical and/or treadmill) and then 20-30 minutes of upper/lower body strength training. I incorporate weights and kettlebells into my regimen three times a week. I've achieved great results with this routine after understanding how my body (or a plus-size body) worked and what max fat burn is for my body.
How often did you work out? I worked out for five days a week the first two months and four days a week the following two months. Now I am down to working out three days a week.
What was your starting weight? What is your current weight?
I reached my heaviest weight was during my freshman year in college, at 260 pounds. My current weight is 155 pounds.
What is your height?
I am 5'8.5″.
What is the biggest lesson you have learned so far?
The biggest lesson I've learned so far is that to achieve great success and longevity with your weight loss, you have to be aligned mentally and spiritually. The weight falling off is just one of the smaller benefits in the grand scheme of living a holistic, healthy lifestyle physically, mentally, and spiritually. As I was diligent in taking my workouts day by day, I also kept my mindset and faith walk in a constant growing and healing state.
What advice would you like to share with women who want to lose weight?
Ladies, it is not impossible to lose over 20lbs. Being healthy should not be a burden. The way to switch that negative way of thinking is to take your weight loss journey a day at a time. Yes, you want to lose 70 pounds, but what can you do tomorrow to reach that goal? What about the next day? Start with that mindset. Celebrate yourself every day that you accomplish a goal. Next thing you know, you'll look back, and your 70lbs will be long gone! The end date no longer matters. Now is your time to start losing weight physically and gain weight spiritually!
Instagram: @yinkarufai