Transformation of the Day: Ruby lost 115 pounds. Her journey began when she found out that she'd have to lose weight to get an IVF referral. She used a combination of Keto meals, intermittent fasting, and weight lifting to transform her lifestyle. Now she's a personal trainer and nutritionist. This year, she's preparing for her first physique competition.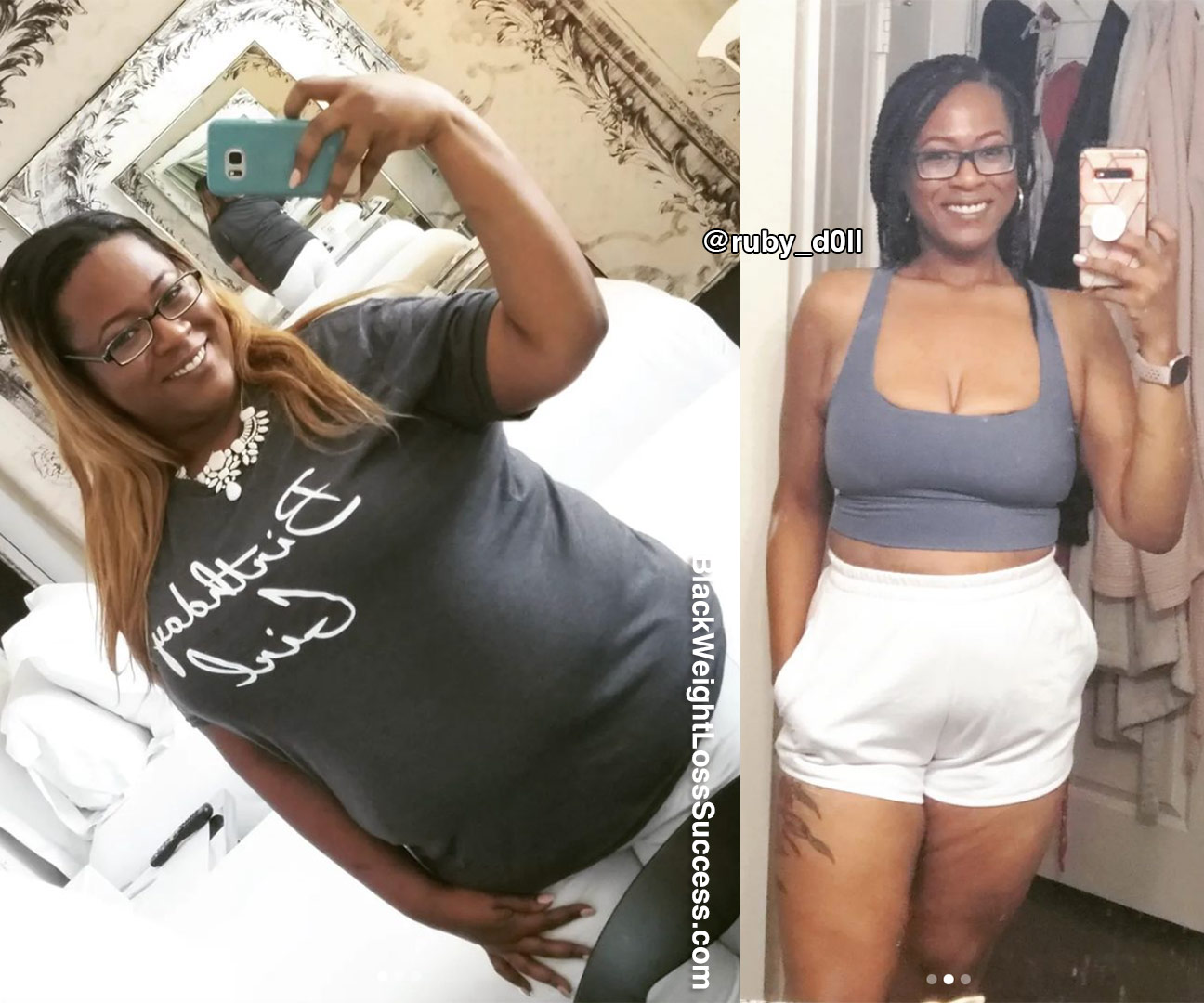 What was your motivation?
Growing up, I was always overweight. I also had asthma and PCOS. I just dealt with the symptoms until my late 20s. That's when my partner and I found that we would not be able to get an IVF referral unless I lost weight. At 280 pounds, I began my weight loss journey and lost a total of 115 pounds using a combination of keto, intermittent fasting, and weight lifting. 
This year I will be preparing for my first fitness physique competition! During my journey, I discovered a love for fitness and health, so I became a certified personal trainer and nutritionist so I can guide people down the same path of fitness success and non-scale victories that I found. I'm proof that with dedication and hard work, anything is achievable. 
How did you change your eating habits?
I chose the Keto diet, so I cut back on sugars, carbohydrates, grains (like wheat and oats), and soy products. Instead, I ate whole, low-calorie foods. I had plenty of different meats with marbling for healthy fat and below-ground veggies, like broccoli, asparagus, and bok choy. I always made sure every meal included a solid source of protein, plenty of veggies, and healthy fats. 
Now that I have transitioned off of keto and I'm in maintenance mode, I enjoy all the different food groups in moderation.
What is your intermittent fasting schedule?
I tried many different fasting schedules throughout my journey. I found that 20:4 (eating about 3 pm-7 pm) worked best for me because I'm not hungry in the mornings but love a big dinner and dessert.
What did your workout routine consist of?
I developed a love for weight training, but I also enjoyed different types of cardio, like kickboxing, dance, Tabata, and HIIT. I also enjoy getting outdoors for long hikes.
Right now, I do dance cardio. Trap-Cardio.com is my favorite cardio. 
How many days a week do you work out?
I lift weights for about an hour, four days per week. Then, I do 30 minutes of cardio the remaining three days per week. This routine allows my muscles time to recover, but it also ensures I get my daily movement. 
What is your current weight?
165 pounds
What is your height?
5'8″
When did you start your journey? How long did your transformation take?
My journey took 2.5 years, with some bumps in the road. I started strong in January 2019 and lost 100lbs that year. Then COVID-19 hit. When the gyms and stores closed, it completely ruined my lifestyle. So in 2020, I gained a whopping 60 pounds. However, I got back on track in 2021 and lost another 75lbs. That makes a total of 115 pounds down, but I really lost 175 pounds total.
Is weight loss surgery part of your journey?
No, I haven't had surgery yet. I hope to undergo IVF later this year. Once I have my children, I plan to get the excess skin on my stomach, back, inner thighs, and arms removed, as well as a breast augmentation. I went from a 44DDD to a 38B.
What is the biggest lesson you've learned so far?
I learned to eat the cookies. It is good to be disciplined, keep your schedule, and keep your habits. Discipline is the root of consistency. However, it's OK to satisfy that craving in moderation when you really crave something. It won't ruin your progress. Eventually, if you don't, it will rear its ugly head again (maybe not tomorrow or the next day, but someday), and you'll go into a binge that could affect you both physically AND mentally. So, just eat the cookies, Girl.
What advice would you like to share with women who want to lose weight?
Just start. There will never be a perfect time, perfect place, perfect setup, or situation. There is no special magic coach, pill, diet, or doctor who can do the work for you. You have to believe in yourself and get started. Make today your Day One, and do the best that you can today. Then, get up tomorrow and do the best that you can again. 
You may have bumps and slip-ups, but eventually, you will find your way. We are all capable of so much more than we believe. You just have to start.
Instagram: @ruby_d0ll