Transformation of the Day: Meshell lost 72 pounds. At 54 years old, the process of changing her lifestyle has made her feel like she is aging backward. She was motivated by a diabetes diagnosis. When her doctor shared how diabetes can cause various health issues, she knew it was time to change.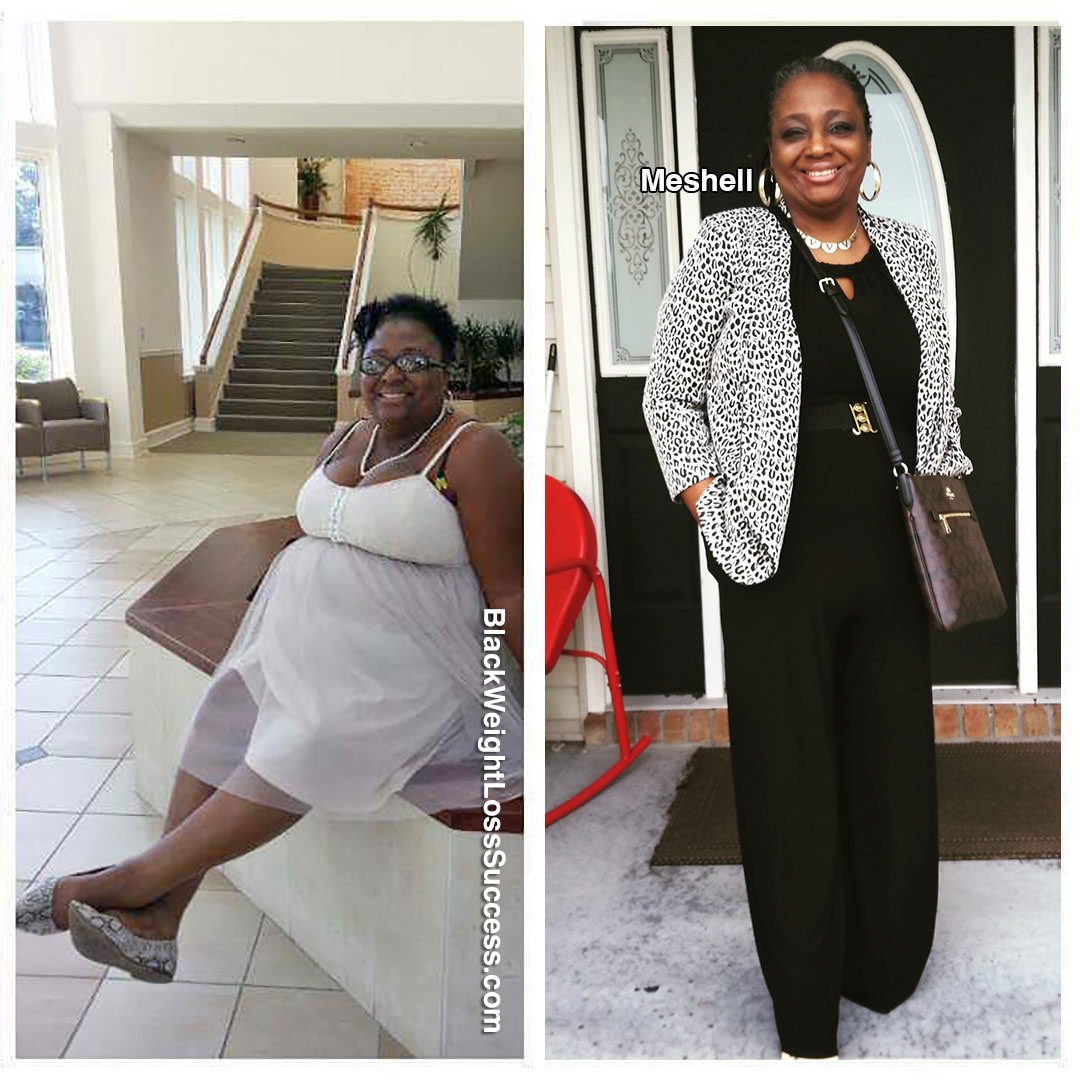 When did you start your weight loss journey?
The beginning of my journey was March of last year. I am 54 years old and aging backward since I started my journey. I give all the glory to God for this transition in my life.
What is your motivation?
My motivation is that I am diabetic. When the doctor said, "You can eventually lose your limbs, eyesight, etc.," I thought about my grandchildren and knew I wanted to be a healthier version of myself. I wanted to live to assist them through this life journey and not be a burden to my husband. I also don't want to be sick while working my position for the Lord.
Starting Weight/Current Weight
My weight started at 265 pounds. I weigh 193 pounds now, and I am still on my journey. I chose to be healthy, and I'm getting there. My goal weight is 140 pounds. (BMI reports that I need to reach 123 lbs, but this is my goal.)
How did you change your eating habits?
I joined a FB diabetic group, and the awesome coach is helping us reverse diabetes (and it is working). She is the truth and very knowledgeable. 
My doctor would give me instructions for three weeks at a time – No carbs, no sugar, drink over eight glasses of water per day. This works. The weight comes off, and my blood sugar is stabilized. (I have random spikes). 
I eat mostly green veggies and berries (strawberries, blueberries, etc.). All other fruit are random and not eaten often due to the sugar content. I always follow the Weight Watchers rules regarding portion control (it will shrink your stomach). 
Basically, I stay away from carbs, and water is my friend. I add fresh lemon to my water.
What is your workout routine?
No exercise, but I will start walking as soon as the weather clears. I have excess skin, so exercise is necessary. 
What is your height?
I am 5'1″.
Did you have weight loss surgery?
No. I am afraid of surgery.
What is the biggest lesson you're learned?
The biggest lesson I learned was that I was dealing with emotional eating. This is why I was so heavy. So I went to therapy and did the work. I learned it is okay to forgive when people don't apologize, and it is okay to love and celebrate me when people don't or won't. I also learned to accept my gifts and use them without feeling guilty.
What advice would you like to share?
Give yourself grace throughout the process, and never give up. Remember, all things are done through Christ. He will guide you even on your lowest day.