Transformation of the Day: Simone lost 133 pounds. Simple tasks were becoming impossible, and she was determined to improve her health. After Gastric Bypass surgery, her eating habits totally changed, and she worked out 4-5 days a week.
Update: Simone has lost 144 pounds.
 

 

View this post on Instagram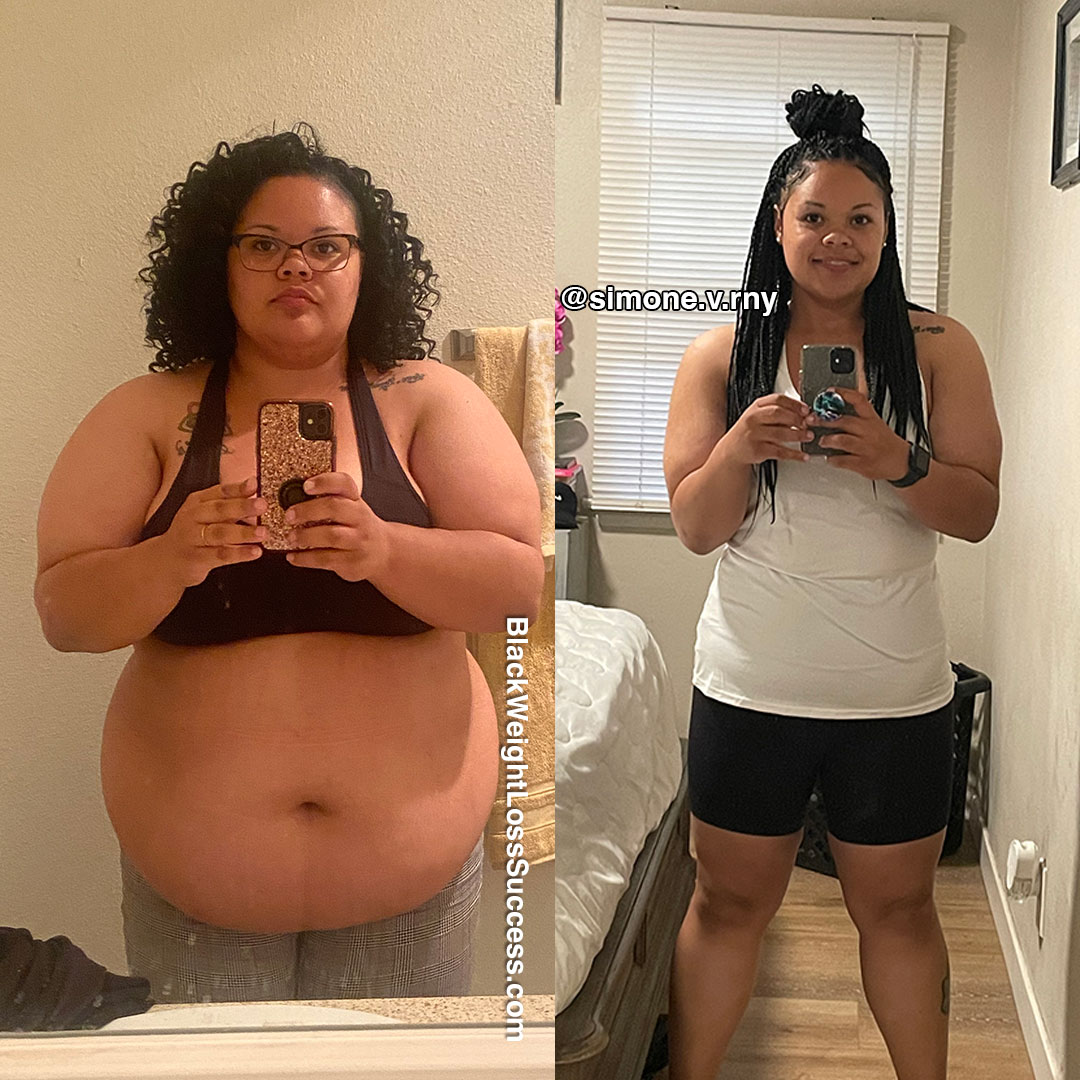 What was your motivation? What inspired you to keep going, even when you wanted to give up? 
My motivation to lose weight was to improve my health. The year before changing my lifestyle, I had a constant fear I was going to die in my sleep. Breathing, walking, talking, and doing other regular activities were impossible. Remembering how I felt nine months ago keeps me inspired and disciplined.
Is weight loss surgery part of your journey?
Weight loss surgery saved my life! I had Gastric Bypass surgery on July 8, 2021.
How did you change your eating habits?
My eating habits have drastically changed. I weigh my food and plate all my food on a small plate/bowl. I eat things in moderation and DO NOT restrict myself from "bad" foods. I have assessed old patterns, and I know that restriction leads to binge eating and weight regain. 
I am changing my relationship with food by checking in with myself to confirm if I am physically hungry or if it's "head hunger." Taking the time to notice the difference has helped me cut out unnecessary meals/snacks. 
 

 

View this post on Instagram

 
What did your workout routine consist of? How often did you work out?
I work out 4/5 days a week. I do 30 minutes of cardio and heavy weight lifting. 
What was your starting weight? What is your current weight?
My starting weight was 319 pounds. My current weight is 186 pounds. (102 lbs down since my surgery date)
What is your height?
I'm 5'2″.
When did you start your journey? How long did your transformation take?
I started my journey on July 8, 2021.
What is the biggest lesson you've learned so far?
Being consistent on this journey is hard work. Focusing on being consistent one day at a time will lead to lifetime consistency. 
What advice do you have for women who want to lose weight?
If you want to lose weight, identify your "why". Also, make sure you have a support system. There will be days when you struggle, and you'll need to lean on someone who can help you find the motivation to get back up.
Instagram: @simone.v.rny