Transformation of the Day: Audrea lost 40 pounds. She was tired of feeling down and disempowered, so she focused on self-love and letting go of unhealthy habits. She embraced a whole-food, plant-based Vegan eating style, including drinking healthy smoothies. She posts all about her journey on her social media profiles.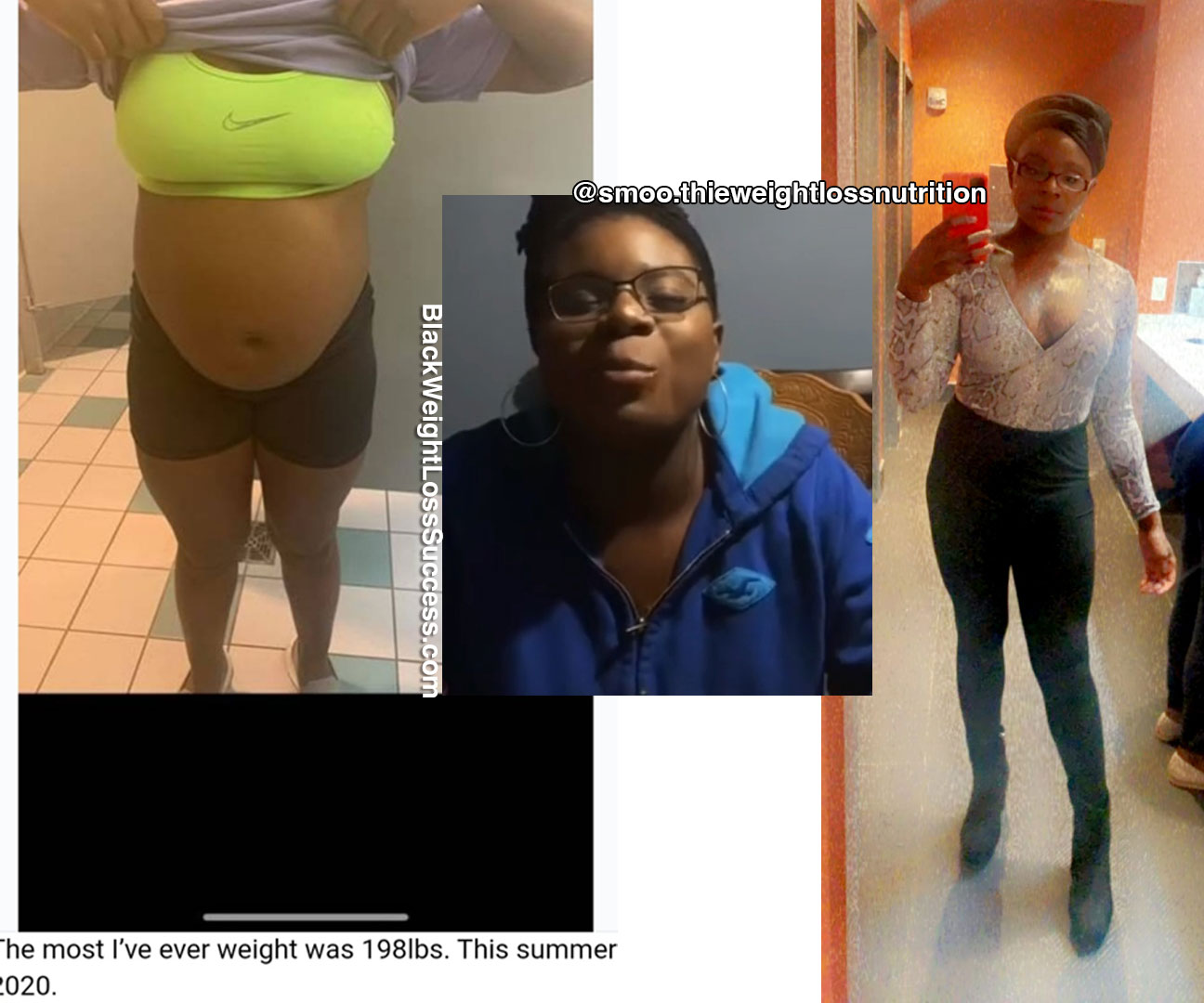 My name is Audrea. I am 23 years old, and I am 5'4″. I naturally lost 40 pounds in 4 months. 
When did you start your weight loss journey?
I started my journey on 11/23/2020. I reached my goal by 2/23/2021. I weighed 198 pounds when I started and weighed 154 pounds by February 2021. 
During my journey, I decided to challenge myself in every way possible. I became obsessed with improving and growing. I also decided to become a certified trainer and nutritionist while on this journey. I was so proud of my results that I wanted to help others with all the knowledge I was learning. 
What was your motivation?
What motivated me out of my decline was personal development content. I listened to weight loss podcasts such as Cut the Fat and a plethora of other resources. 
What inspired you to keep going, even when you wanted to give up?
What inspired me often were weight loss videos. I constantly watched them and declared I would be featured one day, which I did. I was featured by one of my favorite content creators who posts TikTok weight loss videos. 
What inspired me to keep going was how cathartic the experience was and how many people were amazed by my transformation. 
How did you change your eating habits?
I decided I would no longer make love to the things that were killing me, keeping me at my lowest, and making me feel disgruntled and disempowered. So instead, I decided to Eat To Live (That's the title of a book I LOVE AND recommend if you want to lose weight and have sustainable results). 
I transitioned from a Vegan junk diet to a whole-food, plant-based diet. I also created a smoothie diet plan and community. I help my community heal their guts and snatch their waistlines. 
I drank two smoothies every morning and evening for three months, and in the first two weeks of my weight loss journey, I lost 15 pounds.
What kind of workouts did you do?
I did a lot of intense cardio and aerobic activities. It brought such joy to me, and I would take classes at my local gym. I would work out every day, but now my program has changed. I am currently focused on strength training and building muscle since losing weight. 
What's the biggest lesson you've learned so far?
I believe the biggest lesson I've learned would be we have to be responsible for our own health and healing. It is vital. 
What advice would you like to share with women who want to lose weight?
My advice for women who want to lose weight would be to love themselves in every state that they are in. If you know you are not at your highest potential, that's okay. Be strong and courageous enough to accept that. Love yourself into becoming the optimal woman you know you can be. 
Also, I would love it if I could reach more ladies to follow My smoothie page accounts. I'm on a mission to heal guts and shrink waistlines.
TIKTOK: @Smoothie_recipes2021
Instagram: @smoo.thieweightlossnutrition
 

 

View this post on Instagram