Transformation of the Day: Ashley lost 41 pounds by practicing intermittent fasting and adopting a Ketogenic lifestyle. My Sigma Gamma Rho soror is determined to be a healthy example for her daughter and avoid a family history of hypertension and diabetes.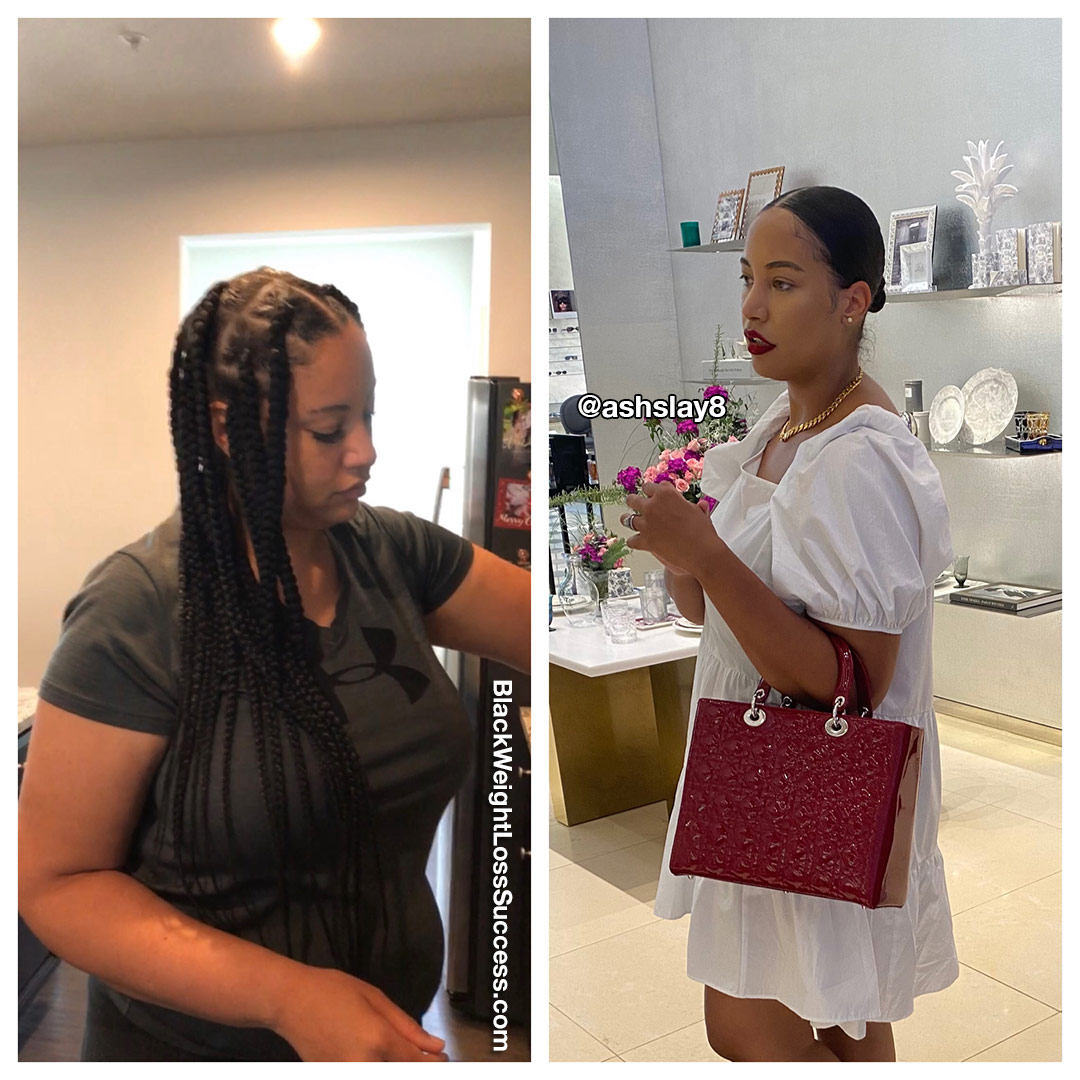 What was your motivation? What inspired you to keep going, even when you wanted to give up?
My daughter inspired me. She is 18 months old, and I want to be healthy for her. I want her to see me working out and drinking water! I didn't see either of those traits from my parents…ever. Hypertension and diabetes run on both sides of my family. 
How did you change your eating habits?
I have been doing Keto and intermittent fasting!! [OMAD] It is powerful!! And as a millennial, I like fast results. 
What did your workout routine consist of? How often did you work out?
I work out 2-3 times a week. I only work out on the elliptical for 45 minutes. I'm still in weight-loss mode, so I'm not lifting weights yet.
What was your starting weight? What is your current weight?
My starting weight was 251 pounds, and my current weight is 210 pounds. My goal weight is 165 pounds.  
What is your height?
My height is 5'10".
When did you start your journey? How long did your transformation take?
I started on April 18, 2021, and I lost 20 pounds in a month. 
Is weight loss surgery part of your journey?
No. I do not have any plans for weight loss surgery. 
What is the biggest lesson you've learned so far?
The biggest lesson is that I don't need to have a bunch of small meals! It's a lie! I need to allow my body time to break down the food, and it can't keep up with the influx of food if I keep eating. I have switched to one meal a day (OMAD). My body feels healthy. My menstrual cycles have been SO light, and I've had ZERO cramps since starting Keto. I don't crave sugar, and that's significant because I have a huge sweet tooth. 
What advice would you like to share with women who want to lose weight?
My advice to other women is to try Keto. Do your research and give yourself some grace! 
Instagram: @ashslay8