Transformation of the Day: Lisa lost 191 pounds with healthy eating habits and VSG surgery. She has faced a number of challenges during her journey, including Chronic Kidney Disease and organ failure. However, she leaned on her faith and focused on her goal of living a better quality of life.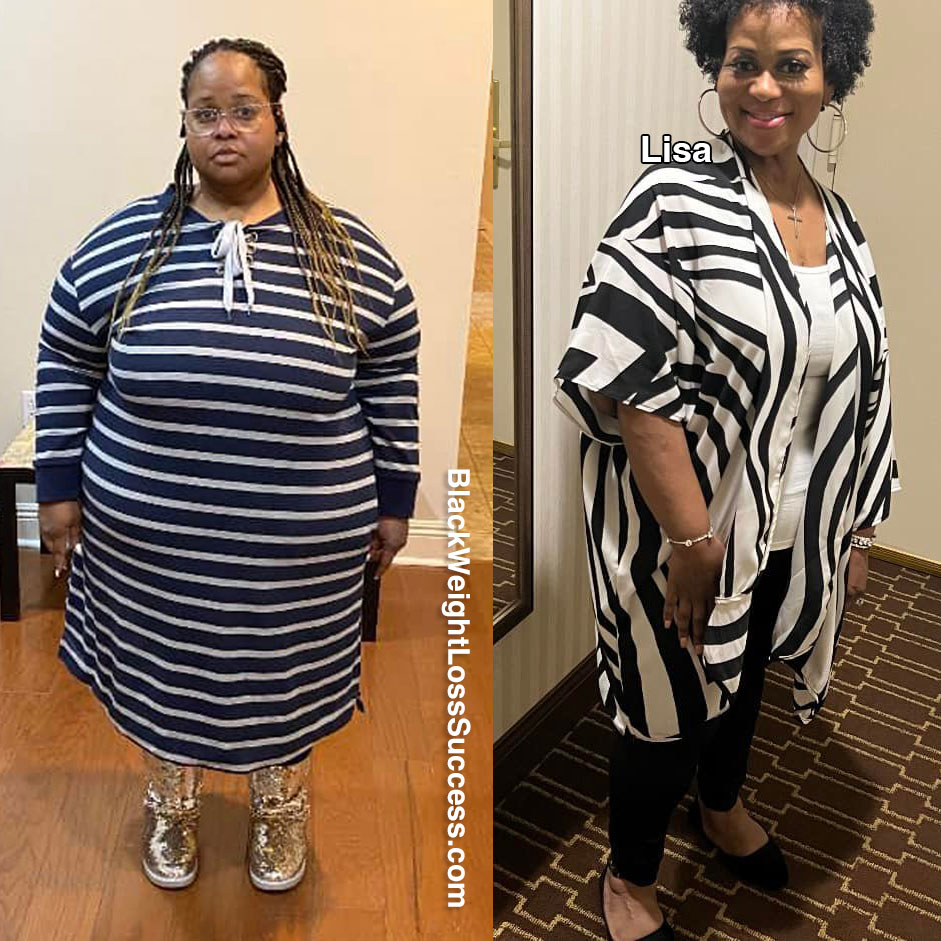 My name is Lisa, and I've lost 191 pounds with healthy eating, the Do Better Divas Fitness/Nutritional Group, and the Vertical Sleeve Gastrectomy!
After the VSG, I suffered dehydration and depletion (in May 2020). While I was getting ready to be discharged from the hospital, I was diagnosed with Covid-19! As a result, I was placed on artificial ventilation for six weeks due to multi-organ failure.
Afterward, a nurse discovered that my left pupil was dilated. I had to be airlifted to another hospital because I'd suffered a brain bleed! To make a long story short, I survived Chronic Kidney Disease without dialysis, Covid-19, and a brain bleed! I had to learn how to walk, talk and sing again! 
What was your motivation?
My goal to be my best self by taking steps to live a better quality of life motivated me to lose weight. 
What was your starting weight? What is your current weight?
My highest weight was 341 pounds, and my current weight is 150 pounds.
What is your height?
I'm 4'11". 
Tell us about your eating habits and your workout routine.
Due to Chronic Kidney Disease, I drink 64 ounces of water daily. I also cut down eating sweets to a minimum of just eating them for special occasions and treats. In addition, I drink high protein shakes and eat sensibly from the four primary food groups, along with doing Occupational Therapy and Aquatics. 
When did you start your journey? 
I started my journey in 2016 and had a stroke. In 2018, I reached out to a weight management doctor. In 2019, I was approved for the Vertical Sleeve Gastrectomy weight loss surgery. 
What's the biggest lesson you've learned so far?
The biggest lesson I've learned so far is that great health=wealth and that I refuse to be alive and not live a healthy lifestyle. 
What advice would you like to share with women who want to lose weight?
Go to God in prayer and talk with your health care providers and see what steps you need to take to start being a more healthy you!