Transformation of the Day: Alisha lost 48 pounds. She is motivated by her children and her mother, who in her late thirties due to preventable diseases. During this journey, she embraced self-discipline, found a love for running, and adopted a style of eating that truly working for her.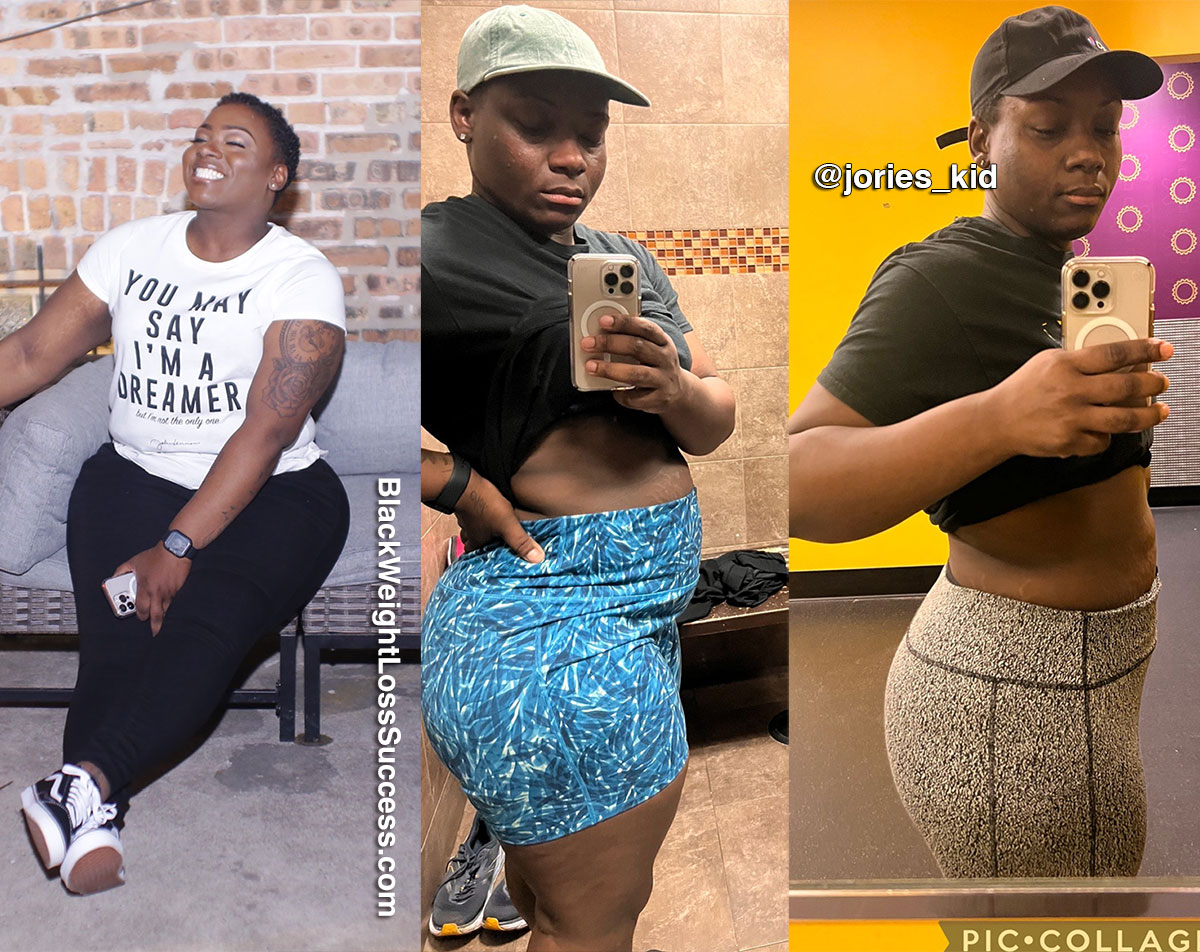 Social Media:
@jories_kid on Instagram.
What was your motivation? What inspired you to keep going, even when you wanted to give up?
Three things have kept me on track as I embarked on this journey. 
1) My children 
2) Switching my mindset from being motivated to practicing self-discipline. I'm human. There are times when I'm not motivated, and self-discipline can kick rocks, Lol. However, I'm accountable to myself, so on those days, "we" have a talk and get back to it! "I have to because "I must" is my mantra. 
3.) My mother died at 37 years old from preventable ailments. I don't want to die. 
How did you change your eating habits?
I didn't complete a specific plan and didn't count calories. Instead, I eyeball everything and listen to my body when it's well-fed and full. 
I stopped eating pork before I started this journey. I've also let go of beef for the most part. Instead, I'll mostly eat fish, turkey, and chicken, along with lots of veggies and fruits. 
I learned early on that "healthy snacks," such as 100-calorie brownies, cookies, and chips, aren't for me. I'll kill the ENTIRE box, lol. I've had to make a complete lifestyle change with food. Changing what I eat has been the most challenging part for me. Food was an emotional comfort. When food became just about survival, I had to deal with my emotions. God has really been here for ya girl! 
What is your workout routine? 
Hands down, I love running for cardio (don't kill me y'all, lol). I'd say this is the place I meditate most. My mind is quiet and focused on scanning my body. My head is clear, and I can focus on the day when my workout is over. 
I also really love leg day! It's where I'm the strongest. It builds my confidence in self to see me lift the weight I do with my legs. 
How often did you work out?
I do some kind of workout every single day. 
What was your starting weight? What is your current weight?
I started at 280 pounds, and as of today, I weigh 232 pounds.
What is your height?
5'6
When did you start your journey? How long did your transformation take?
I started my journey right after my birthday in March 2022. However, it took a few months for me to really get consistent. 
What is the biggest lesson you've learned so far?
I learned that I really do have the power to do whatever! Once I truly lock in, my goals are done for! 
What advice do you have for women who want to lose weight?
Anything that you're dealing with in your head, soul, or heart shows up in the body. They are all deeply connected. My advice would be to love on them and begin the work of mending them simultaneously. You will see lasting effects! 
Is weight loss surgery part of your journey? 
No, I haven't had any weight loss surgeries.