Transformation of the Day: Sonja lost 40 pounds by making healthier choices. She told us how she began her journey by going Keto and working out every day for 15 minutes to establish a consistent routine. Now, she loves going to the gym and doing strength training.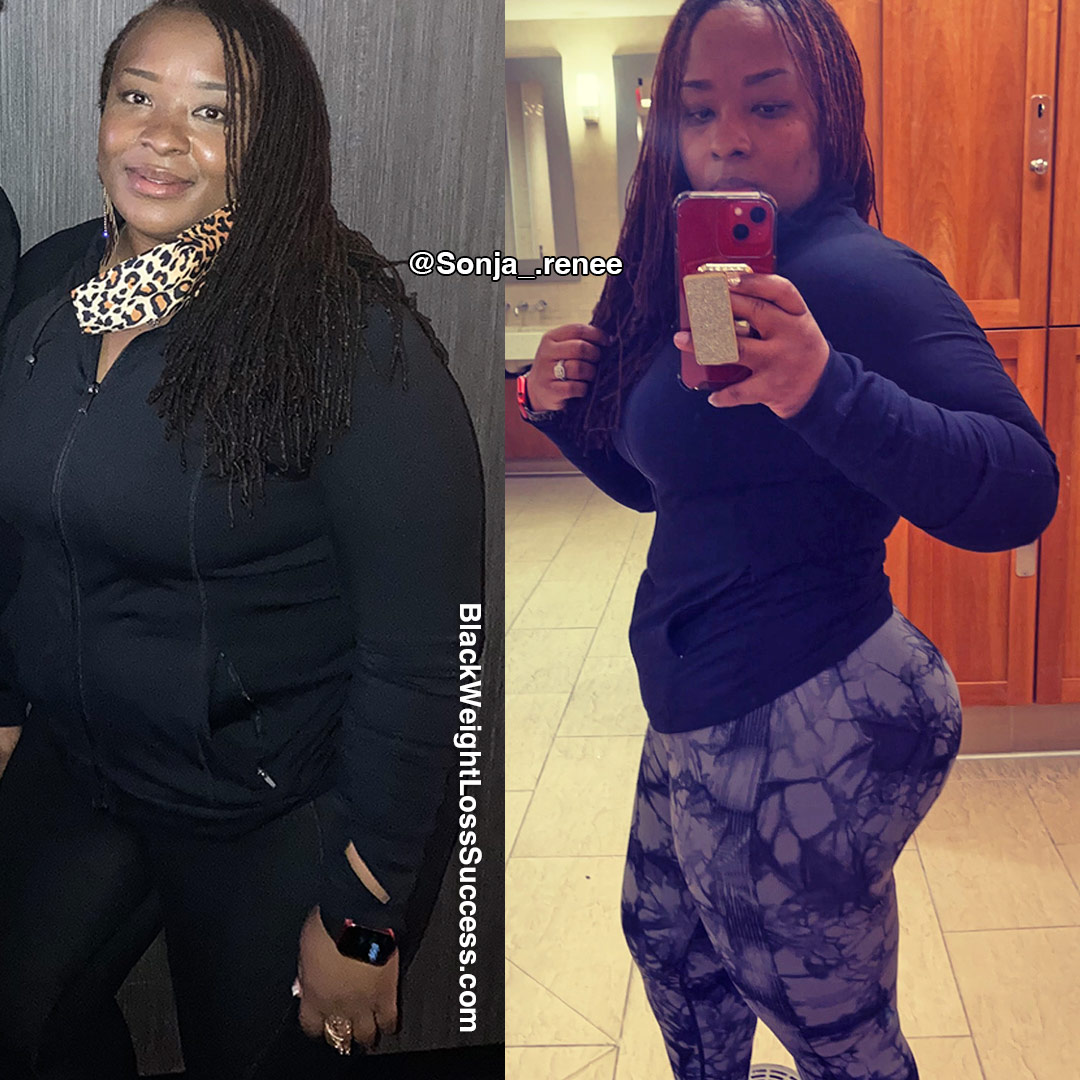 What was your motivation? What inspired you to keep going, even when you wanted to give up?
I have always been a little overweight my whole life, but since I was proportionate, it was never a big deal to me until I got a little older. 
I spent years yo-yo dieting. My final motivation was my inability to lay down flat without being short of breath. I was just 31 years old when this started happening. On March 11, 2021, I told myself that I would go Keto, and I haven't looked back since then.
How did you change your eating habits?
I started with the Keto diet: I did a relaxed version of Keto so I could sustain the change. Recently, I incorporated intermittent fasting into my routine. I'm starting with 16 hours of fasting and 8 hours of eating. From there, I plan to increase my fasting time up to 20 hours a day until I reach my goal. 
What did your workout routine consist of? How often did you work out?
Part of my weight loss plan was to work out every single day. This helped me to create a routine. So that working out wouldn't seem too daunting, I started with just 15 minutes a day. I worked the night shift at this time, and on the nights that I would work, I would wake up and work out before my shift. 
I started with just cardio, doing YouTube videos (such as Trap Cardio which is my favorite), and dancing to music videos. I switched to the day shift about six months into my journey and couldn't quite do those workouts before work. 
Now that I'm further along on my journey and have established a habit. I work out four days a week and typically do only strength training workouts. I look forward to going to the gym now instead of dreading it. 
What was your starting weight? What is your current weight?
My starting weight was 235 pounds, and I currently weigh 199.6 pounds!
What is your height?
I'm 5'1″.
When did you start your journey? How long did your transformation take?
My journey started on March 11, 2021. It took me one year to lose 36 pounds. I was in no rush to lose weight at the time as I was just trying to get into a routine of choosing better foods to eat and reducing my consumption.
Is weight loss surgery part of your journey? 
No, I didn't have surgery.
What is the biggest lesson you've learned so far?
Just like everyone else says, my biggest lesson was consistency! In the past, I would begin a diet, lose weight and go back to my old habits, usually because the changes were NOT sustainable. I made Keto work for me, and it is something that I can live with long-term. I did not feel deprived at all. The time is going to pass anyway. I got tired of getting to another year at the same weight, with the same old excuses.
What advice do you have for women who want to lose weight?
Choose your hard! Losing weight is hard, and so is being overweight! Stay consistent. Wake up every day and choose YOU. I'll never go back to being overweight. I now know how capable I am of losing weight and keeping it off without feeling deprived. 
Also, emerge yourself in all things weight loss. I joined several Keto Facebook groups, black moms' Keto, and follow people on Instagram so that when I scroll, I will always see something inspirational. I also kept a picture of myself at a goal weight as a screensaver on my phone to remind myself. YouTube has tons of weight loss before and after videos that I would consume myself with. I also used this website [BWLW]. Every day, I would log on to see who lost weight, which was inspirational for me.
Take pictures! I cannot stress this enough. Even when you don't want to because you don't like how you look, take photos. You will look back and be amazed at your transformation. I took pictures weekly and would always compare, even if there was no loss on the scale. 
Instagram: @Sonja_.renee