Transformation of the Day: Kimberly lost 128 pounds, and she's no longer pre-diabetic. Her boyfriend joined her, and they've lost 210 pounds combined. Meal prepping, switching to a Pescatarian eating style, and consistent workouts have all been part of her awesome transformation.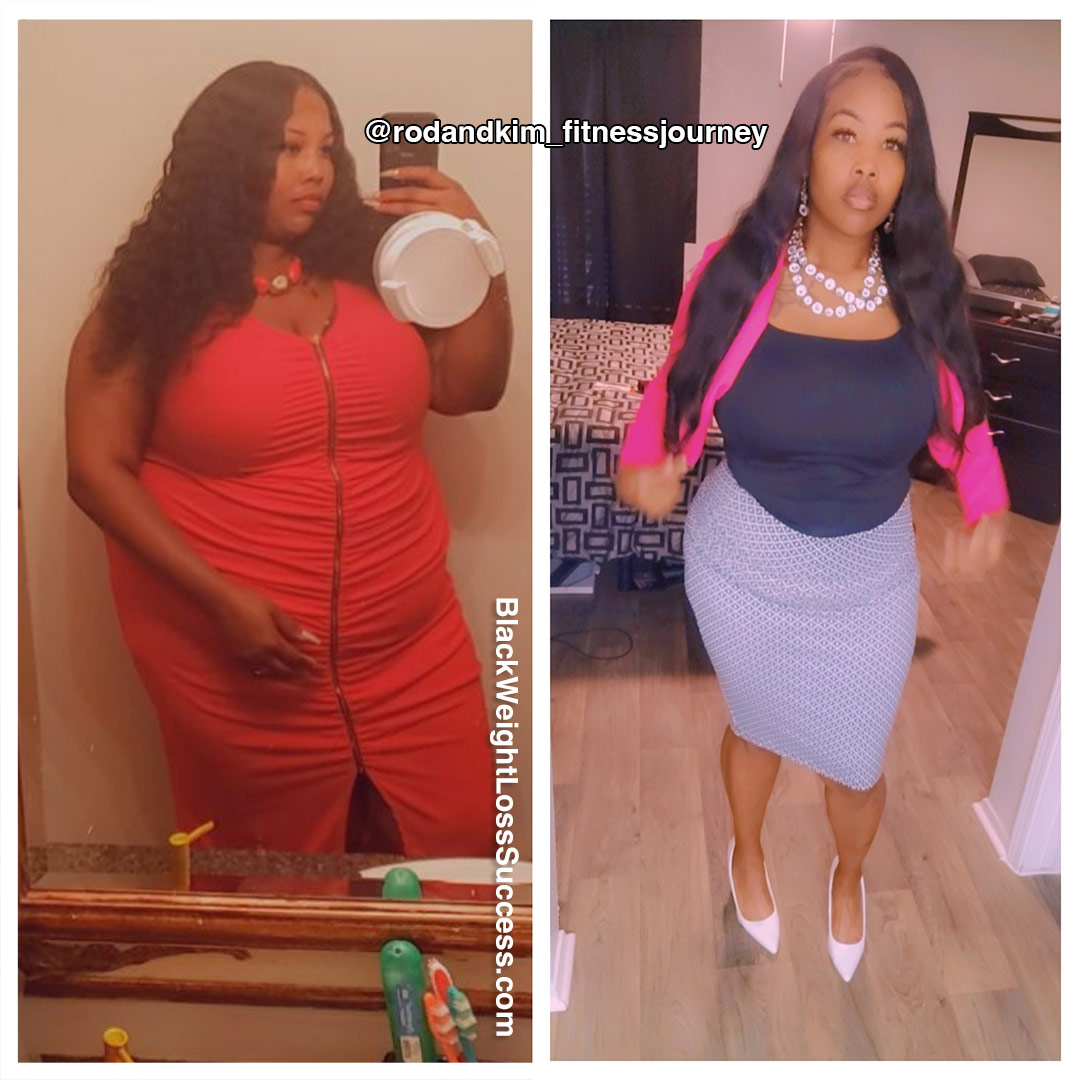 My name is Kimberly, and I lost 120+ pounds in a year and a half… and I'm still going. My height is 5'8″, and my highest weight was 325 pounds. I'm down to 197 pounds with a goal weight of 180 pounds. I plan on toning up when I finally reach my goal. 
Losing all the weight left me with loose skin, but I'll take that over being overweight any day. I've been waist training during my journey, which has helped a lot. I wear my waist trainer faithfully. I started in a size 6X. Now I'm wearing a Large. 
A little about my journey…
I moved away from family and friends in Little Rock, AR, in 2020. I relocated to Dallas, TX to focus on my life. Sometimes you have to get away to focus better. 
First, my motivation to start my weight loss journey was to get healthy enough to keep up with my son and regain my confidence. Once I lost the first 25 pounds, that really motivated me to keep going and not give up on myself like I did the last five times I tried this. 
How did you change your eating habits?
My boyfriend joined the weight loss journey with me, and we lost over 210 pounds together. He did all our meal prepping every week. 
The first eating habit I changed was to stop eating chicken, pork, beef, etc. After that, I went Pescetarian, and I believe it was a game-changer. I also stopped all fried foods, hot chips (which were my favorite), bad snacks, candy, juice, and all the other things that are unhealthy for me. 
I began to eat more veggies and started cooking them differently to enjoy them better. In addition, I made sure I only drank water or Gatorade zero. 
 

 

View this post on Instagram

 
What was your workout routine?
In the beginning, my workouts consisted of walking three miles a day. I did that for months, 3 or 4 days a week. Then I started doing it 5 or 6 days a week. Every day I would walk faster and try to beat my time. 
Next, I started going to the gym for three days and walking for two days, depending on the weather. I would do 30 minutes of cardio in the gym, either on the Stairmaster, elliptical, or treadmill. Then I would do 30 minutes of weights and focus on a different body part daily. 
When did you start your journey?
I started my journey in November 2020. 
Is weight loss surgery part of your journey?
Surgery was never an option for me. I was too scared to do it and couldn't afford it. It took me a while to get where I'm at, but I'm so proud of myself and the changes I've made to my body. 
What advice would you like to share?
The biggest advice I have for women wanting to lose weight and get healthy is; Stay consistent, don't give up on yourself, change your mindset and trust the process. 
I'm so in tune with this healthy lifestyle; I know this is my purpose. I want to be able to inspire others to get healthy. I recently went to the doctor for blood work, and I am no longer pre-diabetic. The doctor said I'm 100% healthy. That was my ultimate goal. 
Now I'm working on becoming a personal trainer to help others who need that push and want to become healthier people. You can follow my/our journey on Instagram at @rodandkim_fitnessjourney.