Transformation of the Day: Felicia lost 97 pounds. To lose weight during the pandemic, this single mom worked out at home, addressed her emotional eating, and refused to give up on herself. She is committed to doing what it takes to maintain her success.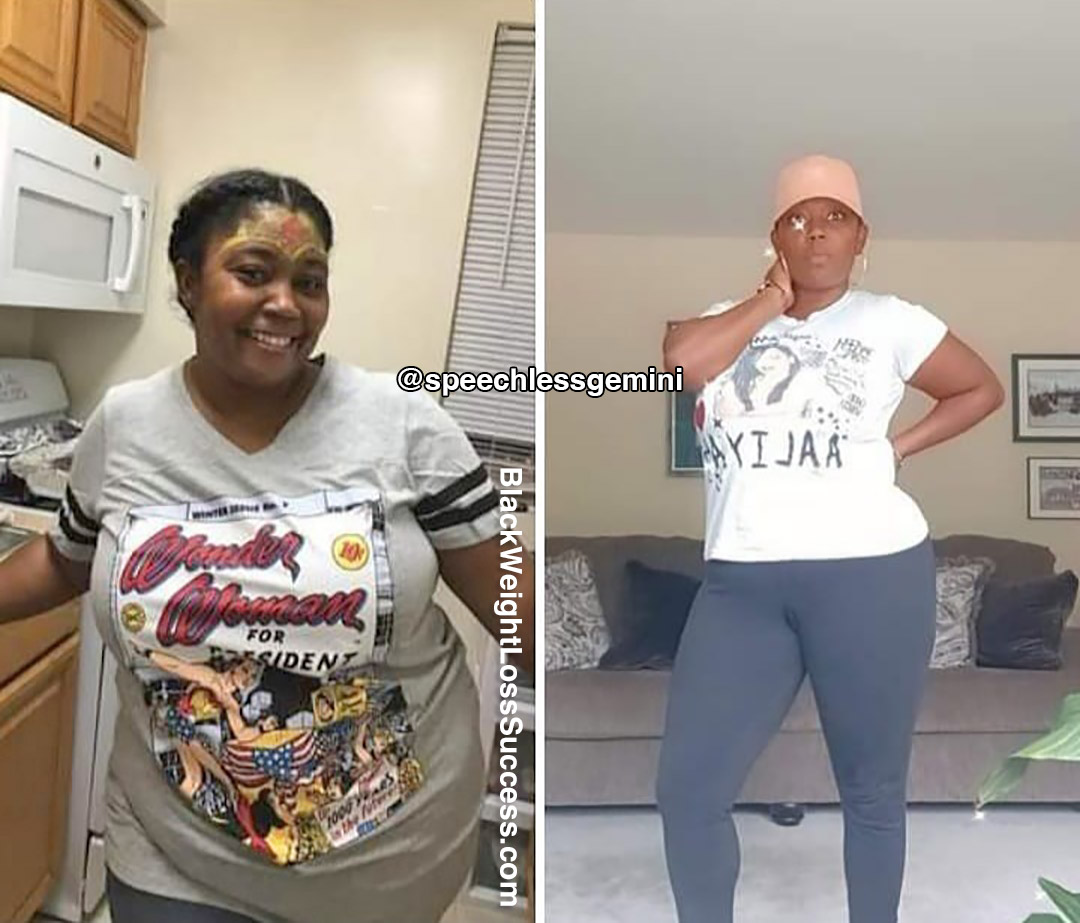 My name is Felicia, and I have been on my weight loss journey for about a year and some months. I'm a small business owner x 2, the first being Bullock Enterprise and Transportation, of which I am the Chief Operations Officer and Co-owner. The second is my brainchild and passion, my career as a Motivational Speaker under the True Story Imprint.
Through my own discovery and enlightenment, I've lost over 90 lbs through diet, exercise, persistence, and discipline. It wasn't easy, but it's been well worth it. I tell my peers, "DON'T GIVE UP!"
What motivated you to get started? What inspired you to keep going, even when you wanted to give up?
What motivated me to start my weight loss journey last year was me. I suffered from anxiety and depression for many years, as well as other things that were not good for me. 
My True story, my children, and helping others inspired me to keep pushing because I had others looking up to me and asking for help and guidance on their start to their weight loss journey. I failed twice, but one thing I NEVER did was completely give up on myself. 
 

 

View this post on Instagram

 
How did you change your eating habits?
When I began my journey, I made changes to my lifestyle, especially my eating habits. I was an emotional eater but changing my eating habits allowed me to feel different in the most amazing way. 
There were no more sandwiches at 3 in the morning with chips. No more eating after 8 pm and going straight to bed. I also incorporated more fruits and vegetables into my routine. 
I don't have a playbook on what to eat, but I've learned that it's not only what you eat but how much you eat. 
What did your workout routine consist of? How many days a week did you work out?
I used to work out three times a day for about 40 minutes with a cooldown of mediation at the end of my days. My routine consists of working out at home. Being a single mom and losing weight during the pandemic, I had to make it work for me. So I did a lot of cardio and stretching. 
What was your starting weight? What is your current weight?
My starting weight was 260 pounds, and I currently weigh 163 pounds.
What's your height?
I'm 5'2″. 
When did you start your journey? How long did your transformation take?
I started my journey early last March after I caught Covid. This journey I'm on doesn't have a timeline. Even though it took me a year to get where I am today, I'm still working to maintain my weight. 
What is the biggest lesson you've learned so far?
The biggest lesson I learned through all this is that no matter how difficult it may be or look, keep pushing because there is a light at the end of everyone's tunnel. 
What advice would you like to share with women who want to lose weight?
Here is my advice to other women, anyone who wants to start, or anyone who's having difficulties with the process: Take a minute to give yourself gratitude. Know that what makes you stronger won't kill you. Also, I would tell them to change their mindset and focus on the fact that they are destined for greatness.
Instagram: @speechlessgemini
Tiktok @speechlessgem